So, you are a student who wants to take advantage of Grammarly premium but hesitates to make the premium purchase due to your budget? Well, a Grammarly student discount can be your best solution!
When we talk about the best writing assistant, Grammarly is one of our go-to solutions! Whether you are a student or a professional writer, it provides everything you need to improve your writing.
We have been using Grammarly for a few years, and luckily, it didn't disappoint us. Additionally, we understand that Grammarly's premium subscription can be expensive for students, and paying $30 per month for the premium version is not feasible for everyone. 
But wait. The good news is that you can save plenty of dollars with the Grammarly student discount code! 
In this article, we will provide you with two methods to avail of the Grammarly student discount code without following any complicated procedure. Furthermore, we have added a step-by-step guide on avail of the discount. 
So, let's grab your student discount below!
Available Grammarly Student Discounts in 2023
There are two ways you can get a discount on Grammarly as a student. As you read the post ahead, we will be explaining both methods. If you want to know more about Grammarly, check out our in-depth Grammarly Review here.
Contact Your University/Educational Institute.
Grammarly offers excellent plans for educational institutes and universities. One of the easiest ways to grab the Grammarly student discount is by contacting your university or academic center. You can talk to your institute and ask them if they can provide you with Grammarly premium access.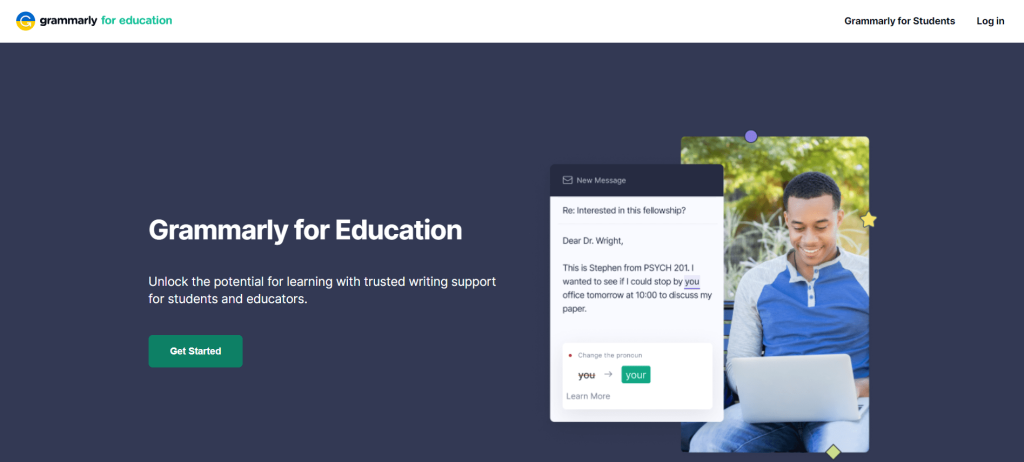 Many educational institutes offer free Grammarly premium access to students. So, if your university or college provides free access to Grammarly, you are in luck! The best part is that you do not need to pay separately for the premium version of your university that already offers a subscription.
Save up to 60% Through an Annual Subscription!
Not every educational institute or university gives students free access to Grammarly premium. If you speak to your university and get no response, do not worry! There is still a way to grab a discount on the premium version. While the standard monthly Grammarly premium subscription is available at $30 per month, you can save up to 60% by opting for the annual plan.

With the annual subscription discount, you can grab Grammarly premium at only $12 per month. So, if you use Grammarly in the long run and need the best budget-saving offer, our 60% discount on the annual subscription will save you from paying additional from your pocket!
One of the best parts about going with our exclusive link is that you do not need to enter any discount code manually. Remember, the offer is available only for a limited time. So, grab your discount before it expires! 
Note: When you opt for the annual plan, you must make a one-time payment of $144. You do not get an option to pay monthly.
How to Redeem Grammarly Student Discount -A Step By Step Guide.
Now that you know you can save plenty of dollars on the Grammarly student discount, you must be wondering how to redeem the discount. Well, worry not!
Here is a step-by-step guide on redeeming the Grammarly student discount within a few steps!
Step 1: Click on our exclusive discount link HERE.
Step 2: Tap on the 'Get Started' option below the premium plan.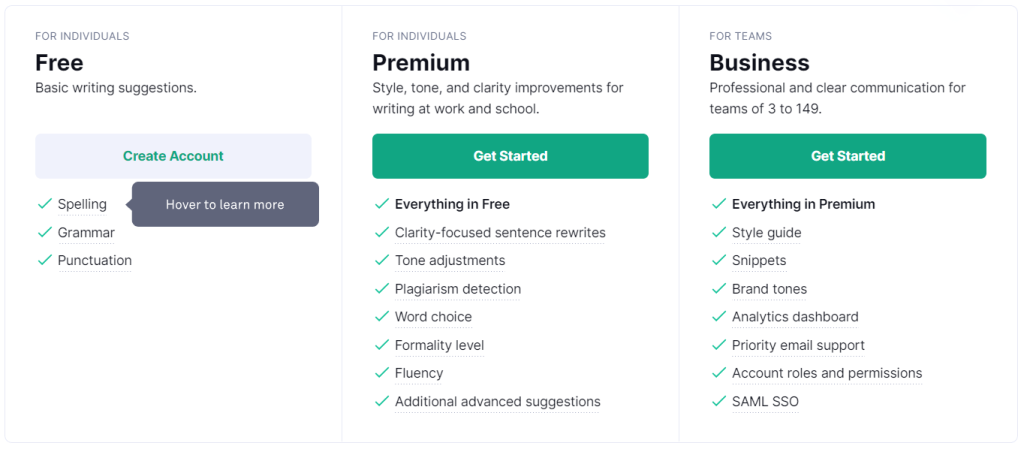 Step 3: Now, log in to your existing account or sign up to create one.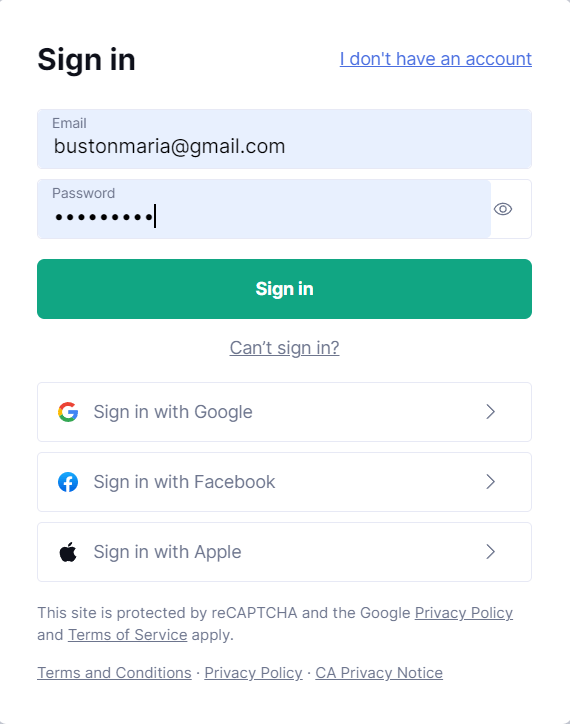 Step 4: Next step is to select the annual subscription.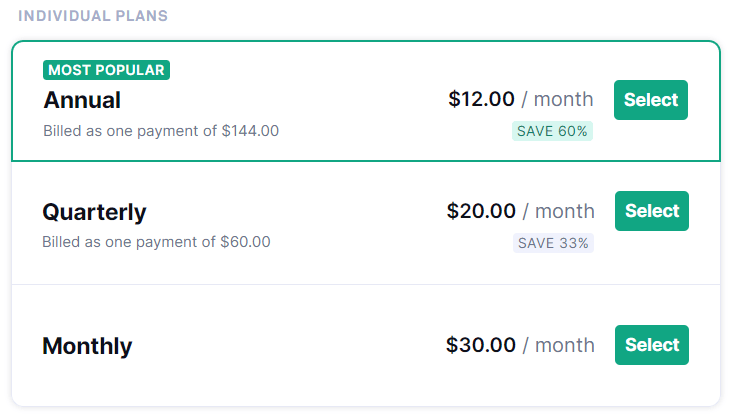 Step 5: Next, enter your payment option. You can still switch to the annual plan if you already use Grammarly premium. Once your current subscription expires, you will be changed to the yearly plan.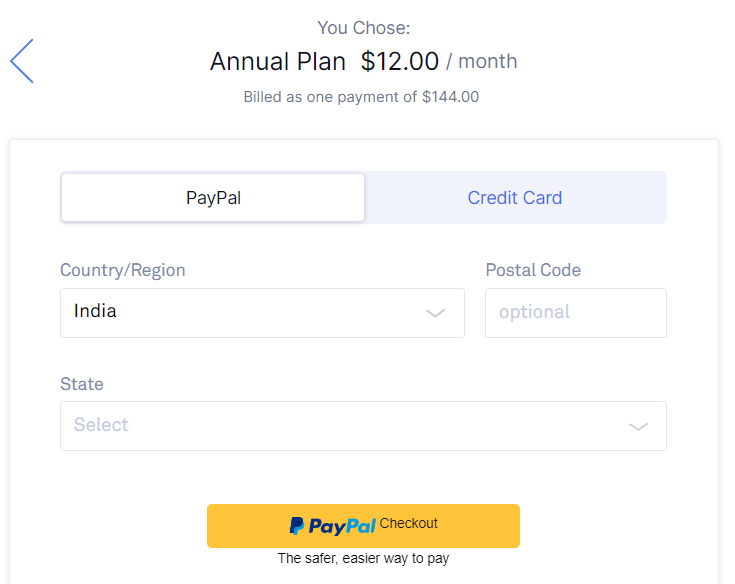 Step 6: Complete your payment!
Congratulations! With our discount link, you have saved up to 60% on your Grammarly premium subscription!
Grammarly Key Features:
Here we have listed advanced features offered by Grammarly. Let's have a look.
Rewrites clear, focused sentence
Detect Plagiarism
Provide additionally advanced suggestions
Tone adjustment
Formality level
Word choice
Snippets
Style guide
Grammarly Pricing Plan 2023:
Grammarly offers a very affordable and low-cost pricing plan for all its users with advanced features. Let's get inside it.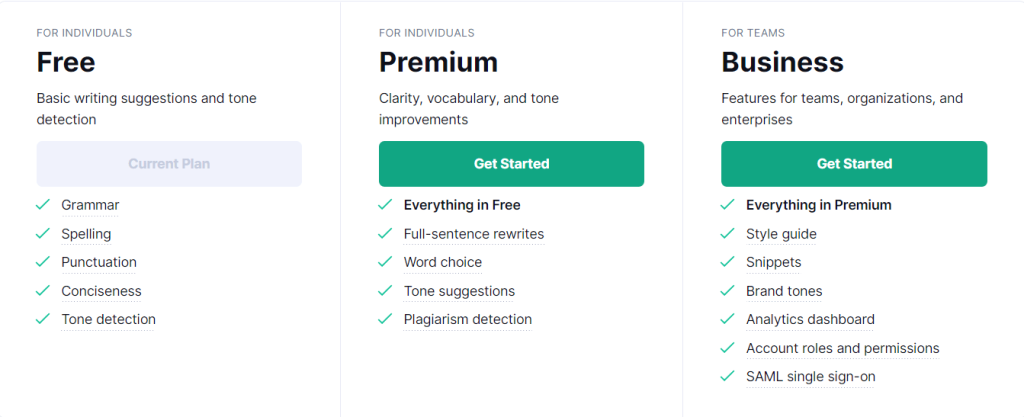 1. Free Plan: Grammarly offers a Free plan for its users; this plan will cost $0, which means it is free of cost. This plan provides basic features like a punctuation checker, grammar checker, tone detection, and spelling checker.
2. Premium Plan: The Premium plan comes with three different types of pricing plans:
Annual Plan: This plan costs you $12 per month.
Quarterly Plan: This plan will cost you $20 per month.
Monthly Plan: This plan will cost you $30 per month.
3. Business Plan: This plan offers 7-day free trial; after that, you have to pay $15 per month per user. It offers all the features that the Premium plan provides, with advanced features like a style guide, snippet, brand tone, SAML SSO, email support, and many more.
Yes! for Educational Institutions, Grammarly Offer Discount!
We have been using Grammarly premium for more than three years now. Initially, we used the free version to test if it was worth it. However, we soon updated the premium plan since it clarified our mistakes better.
The premium version highlighted all the mistakes, including grammatical corrections, synonyms, clarity, delivery of our content, and more. Moreover, it also works efficiently in proofreading. Additionally, through Grammarly, we realized that our sentence structure was weird. Thanks to Grammarly, it helped us erase too wordy sentences and polish our content to the best version.
Lastly, it has an in-built plagiarism checker that checks your content through billions of web pages. So, instead of paying separately for a plagiarism-checking tool, you can opt for Grammarly, as it will do the work of two devices in one!
As exciting as it sounds, Grammarly premium is worth paying for. You get all the excellent features of Grammarly premium with a massive discount. Since you are a student, you can get the most out of the premium version with our exclusive discount offer!
Pros & Cons Of Grammarly:
In this section, we have listed the pros & cons of Grammarly. Let's get inside it.
Pros:
Offers free version
Provide high-accuracy data
Detect Plagiarism
Customization
Easy to use
24/7 customer support
Detect spelling and punctuation mistakes
Cons:
No offline editing option
The free version has limited features
Related Read:
Final Verdict
Undoubtedly, Grammarly is a go-to solution for every user and provides the best solution to polish your writing. With the Grammarly premium subscription, you can rest assured that your assignments will be 100% plagiarism and error-free.
So, what are you waiting for? Please take advantage of your student discount with our exclusive discount link.
We hope this article helped you grab the Grammarly student discount. Did you get your student discount? Let us know in the comments section below.
Frequently Asked Questions:
Can I get a Grammarly premium discount if I'm a student?
Yes, you can get a Grammarly student discount. There are two ways -you can contact your educational institute to grant you access to the premium version or avail of the annual subscription. 
How much can I save with the Grammarly student discount?
If your college, university, or educational institute provides access to Grammarly, you do not need to pay anything. This means you get the subscription for free! However, if that doesn't work for you, you can save up to 60% with the annual plan with our exclusive link. 
Is Grammarly premium worth it for students?
Absolutely! Grammarly premium is a one-stop solution for every user. You can use the premium version to check your assignments and guarantee error-free content if you are a student. Furthermore, you can also ensure 100% unique content with its in-built plagiarism checker. 
Can I use the Grammarly student discount if I already have a subscription?
If you want to avail of the Grammarly student discount but already have an existing subscription, do not worry. You can still avail of the current student discount even if you have already paid for the premium plan. Once you purchase through our exclusive link, your plan will be switched to annual once the current subscription ends. 
When will the Grammarly student discount expire?
Currently, there is no expiration date for the Grammarly student discount code. However, the offers and discounts are only available for a limited time. So, make sure you get your request before it expires.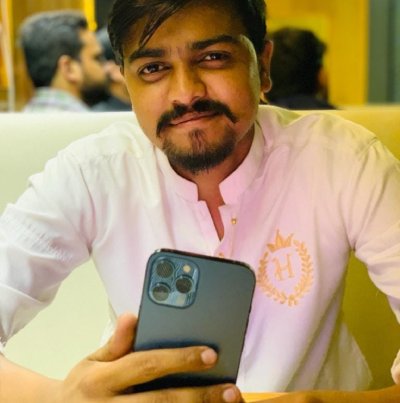 Anuj is a renowned linguist and grammarian with over 3 years of experience in teaching and researching the English language. He holds a PhD in English Language and Linguistics from Delhi University, and is the author of several highly acclaimed books on grammar and usage.