If you are confused about choosing between WhiteSmoke vs Grammarly, you are not alone. Given that both are good tools for checking grammar, it can be challenging to pick one.
Both WhiteSmoke and Grammarly are powerful grammar checking tools. However, not everyone may have the budget to buy both of their subscriptions.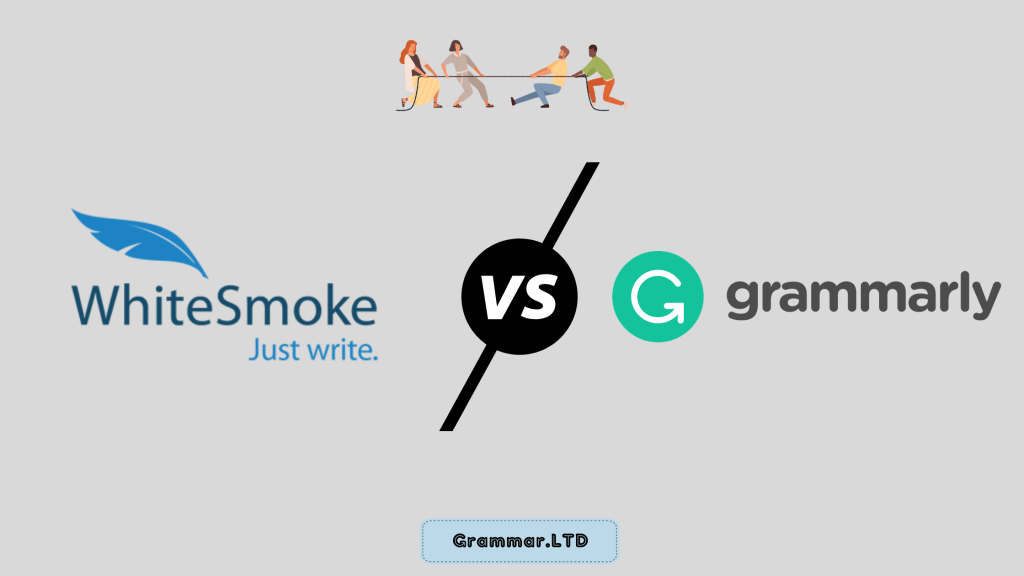 After using WhiteSmoke and Grammarly to check our content, we have gained a thorough understanding of the tools. Today, we are here to share the wisdom with you to help you pick the tool you like the best. We have laid out an in-depth comparison of the tools and compared them in various aspects.
By the end of this article, you will be able to understand which tool is right for you, WhiteSmoke or Grammarly. So, without any further ado, let's get started.
WhiteSmoke vs Grammarly: Overview
Before diving into the details, let us go through a quick overview of WhiteSmoke and Grammarly. It is a quick summary of the tools to help you understand what you can expect.
WhiteSmoke Overview:
WhiteSmoke is a robust AI-based all-in-one English writing tool providing grammar, spelling, punctuation, and style checks. It is an effective and easy-to-use tool to help you enhance your written English. WhiteSmoke points out potential errors in a text as well as gives suggestions for improvement. It can help you come up with clear, concise, and error-free English documents.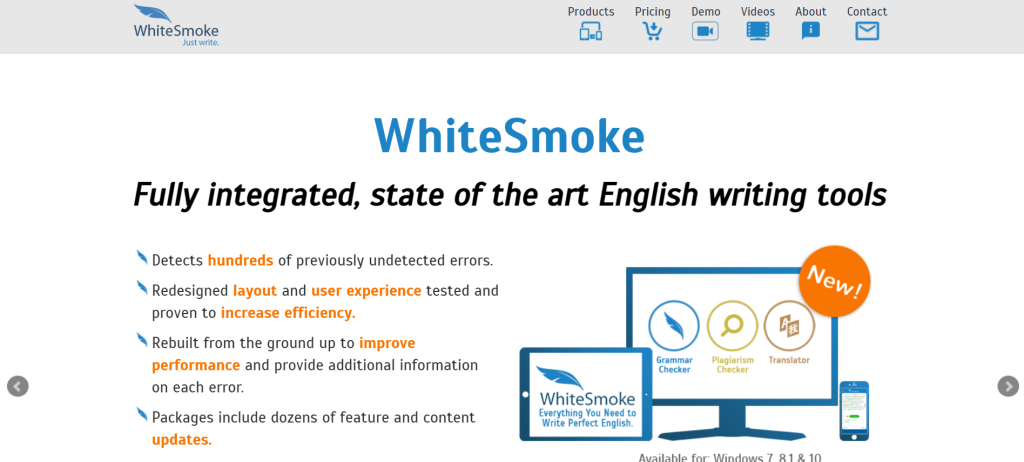 With a dictionary, translator, and built-in templates, WhiteSmoke can help you write confidently. The application is widely used by corporate professionals to write business reports and improve daily business transactions.
Grammarly Overview:
Grammarly is a cloud-based typing assistant that can help you perfect your English grammar with the least effort. It checks your spelling, punctuation, grammar, clarity, and delivery. It also points out boring or outdated words and suggests better alternatives to improve your vocabulary. It uses AI to analyze your text and recommends the most appropriate replacement.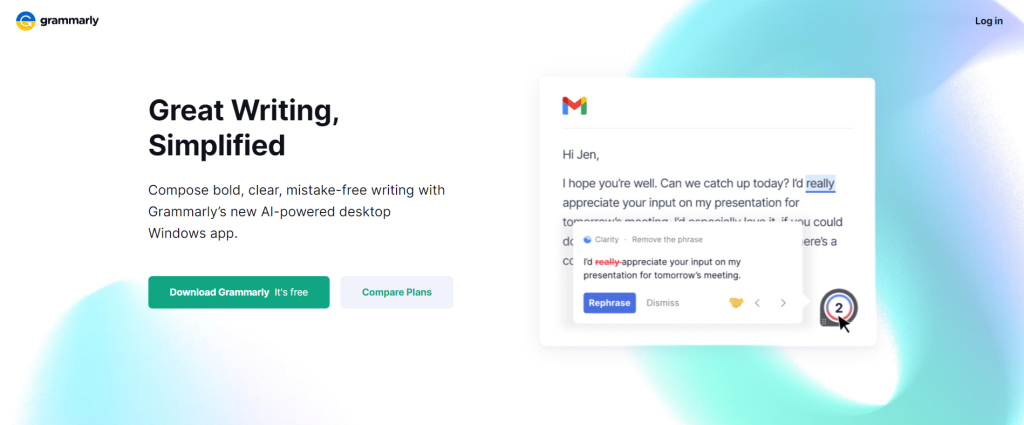 Grammarly can be used on a wide range of apps and sites, including social media. Therefore, whether you're writing a social media post or your college paper, you can count on Grammarly. If you want to get more detail about Grammarly, check our Grammarly Review to know more.
WhiteSmoke vs Grammarly: Key Features
The key features make a tool unique from the others in the market. Let us check out what WhiteSmoke and Grammarly have to offer.
WhiteSmoke Key Features:
Advanced checking algorithms detect errors and offer suggestions.
Explanations of the mistakes to help you improve your English.
Checks misspelled words and correctly spelled words in the wrong context (their/there).
Style checker makes your text flow and sounds good.
The punctuation checker helps refine the details of the text.
Word-to-word translation to and from 55 languages.
Grammarly Key Features:
Checks your grammar, spelling, and punctuation.
Compares your content with 16 billion web pages and detects plagiarism.
Help you write clear and concise essays to receive the best grades.
Tone checker helps you deliver your content just as you want it to reach people.
A style guide helps businesses stick to consistent writing and have a unique voice.
A snippet library helps you elevate consistent communication everywhere.
Analytics allows your team to communicate better.
Brand tone helps create a consistent and engaging brand experience.
WhiteSmoke vs Grammarly: Ease of Use (User Interface)
Ease of use or a good user interface significantly matters when choosing the right software. It can also reduce the number of times you might need customer support.
WhiteSmoke Ease Of Use:
When comparing WhiteSmoke and Grammarly, the first thing we noticed was the ease of use. WhiteSmoke is a well-rounded tool, but it lacks simplicity. We felt that it is quite slow to load, and the design is not modern. It looks like something made in the 2000s which has not been updated ever since.
However, the user interface is more focused on corrections and improvements. The errors and corrections are highlighted with different colors, making it easy to navigate the text. The design is minimalistic, so it may be considered less user-friendly to some people.
Grammarly Ease of Use:
Grammarly, on the other hand, has a clean and easy-to-navigate user interface. The documents you check are saved in the software along with the dates they were checked on. After pasting your text, the results appear within a few seconds. The grammatical errors are highlighted with different colors, such as red for grammar and blue for clarity.
WhiteSmoke vs Grammarly: Accuracy
Inaccuracy in writing leads to rejected content, and bad grades and increases your chances of getting fired. It also causes a waste of time, money, and resources. Therefore, accuracy is an important factor.
WhiteSmoke Accuracy:
After using WhiteSmoke for a while, we can say that its grammar and spelling checking abilities are pretty accurate. It corrected all the errors and made the most appropriate suggestions. Moreover, it also does a pretty good job of identifying a product name and a spelling error, which is rare. So, you have to spend less time dealing with company and product names.
However, it can still give a few false positives during spell check.
Grammarly Accuracy:
Grammarly is one of the best tools in the market for grammar, spelling, and punctuation errors. It can detect your errors 99% of the time, no matter how minor they may be. Sometimes they can point out things that you didn't even know were mistakes in the first place. So, this will also help you learn on the go. However, it has its downsides too.
Grammarly is not always reliable. Some suggestions do not fit the context and can change the meaning of the text. Sometimes it does not detect company names and highlights errors in the entire document, which can be frustrating.
WhiteSmoke vs Grammarly: Plagiarism Checker
A good plagiarism checker can be the difference between getting an A and C on your essay. No matter how hard you try, sometimes it can become impossible to write unique content. This is why picking a good software with an accurate plagiarism checker is crucial.
WhiteSmoke Plagiarism Checker:
The WhiteSmoke plagiarism checker scans and compares your content with billions of web pages online. It is a fast, efficient and reliable way to ensure your content is unique. Overall, our experience with WhiteSmoke's plagiarism checker was good.
Grammarly Plagiarism Checker:

Grammarly scans your content and compares it with billions of pages online. The results show quickly within seconds. Some are accurate and reliable, while others are not, so we do not recommend Grammarly's plagiarism checker if you are a professional. Although it is good, you cannot blindly trust it.
WhiteSmoke vs Grammarly: Integrations and Plugins
Software integrations make communication between applications seamless. Let's see which integrations and plugins WhiteSmoke and Grammarly offer.
WhiteSmoke Integrations and Plugins:
WhiteSmoke offers full integrations with Microsoft Word & Outlook. You can use WhiteSmoke right in MS Word and Outlook.
Grammarly Integrations and Plugins:
Grammarly has indeed defeated WhiteSmoke in terms of integrations. It offers integrations with a wide range of applications and websites.
MS Office suite (Word and Outlook).
Social media websites such as Twitter, Facebook, etc.
Various web apps such as Gmail, Salesforce, Sheets, Confluence, Jira, and Hubspot.
Desktop native apps such as Slack, Discord, and Apple Mail.
WhiteSmoke vs Grammarly: Customer Support
Anytime you face a problem using software, you want to turn to the experts. You want to make sure they are accessible, so you don't have to wait for hours to hear back from them. Let's look at the customer support of the software.
WhiteSmoke Customer Support: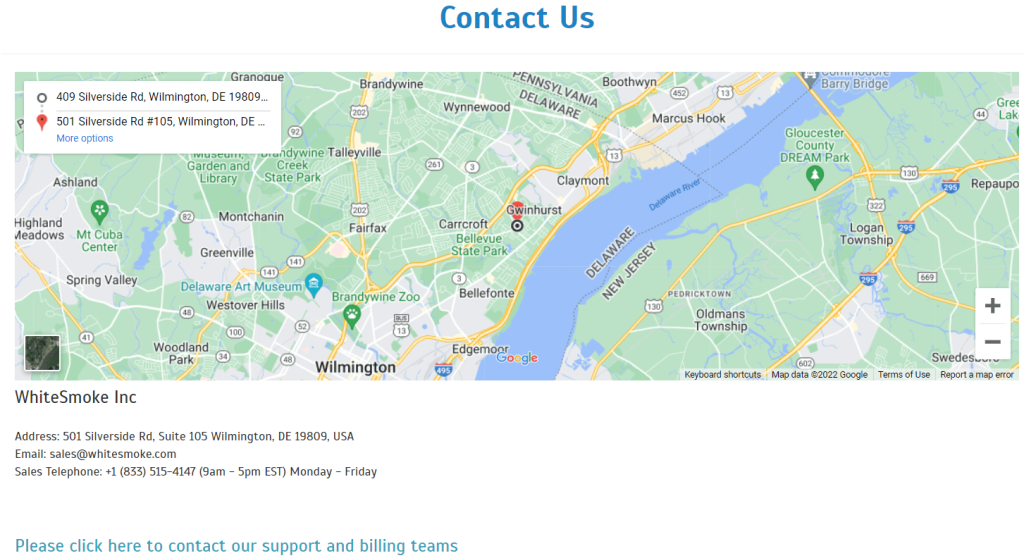 When you face a problem with WhiteSmoke, you can submit a ticket explaining your situation. You have to select an appropriate department for the issue, fill in your information, and explain the problem in written form. The WhiteSmoke team will get back to you through e-mail or your phone number.
Grammarly Customer Support: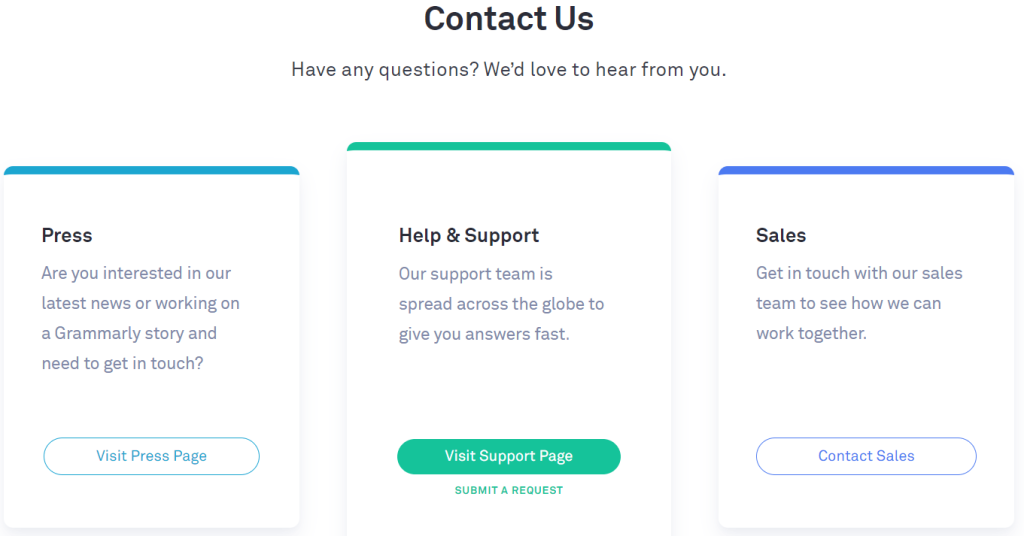 Grammarly has a page full of FAQs. You can search for your concern in the search box there. If your issue does not show up, you can submit a ticket or send an email.
WhiteSmoke vs Grammarly: Pricing
Pricing is an important factor when choosing software. You want a tool that makes things easier for you and not more challenging. So, let us take a look at the pricing of both tools.
WhiteSmoke Pricing: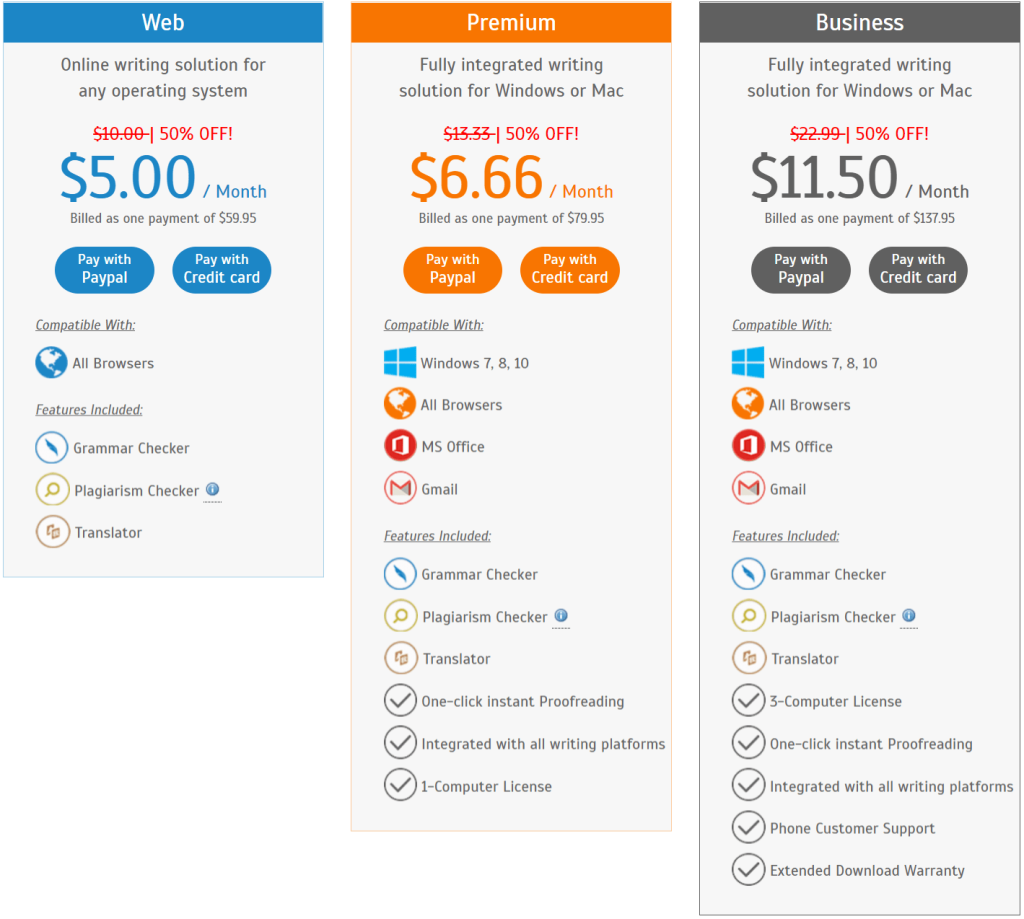 WhiteSmoke offers three versions: Web, Premium, and Business. Unfortunately, there is no monthly billing system. You can either buy a one or three-year subscription. Let us look at what the three versions offer.
The Web version is the most basic one. It comes with a grammar and plagiarism checker and a translator and is compatible with all browsers.
Price: $59.95/one year, $124.95/three years
The Premium version has everything that is in the Web version and more. It comes with integrations with MS Office and Gmail and is compatible with Windows 7,8,10. It is integrated with all writing platforms.
Price: $79.95/one year, $199.95/three years
The Business version is suitable for businesses and organizations. It has all the features of Premium and can be used on three different computers. Moreover, you also get customer support through phone calls.
Price: $137.95/one year, $317.5/three years
Grammarly Pricing: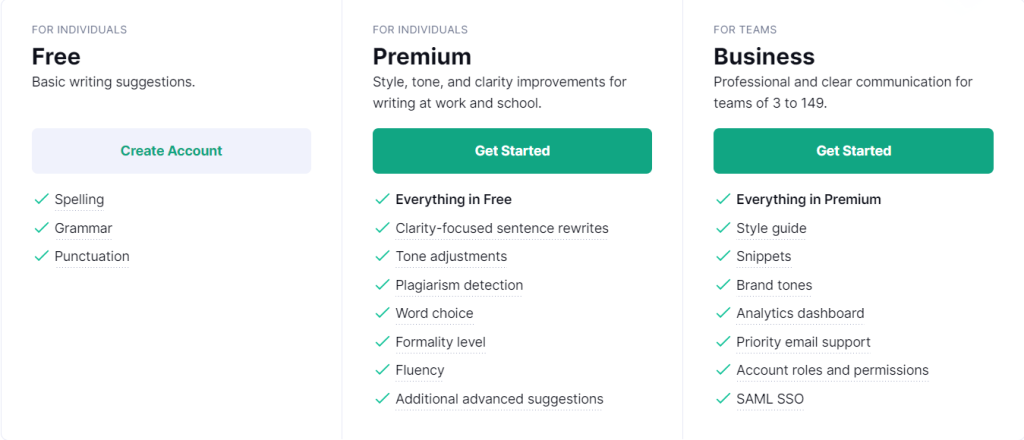 Grammarly offers a free plan with basic features like spelling, grammar, and punctuation checks. Besides that, it offers two paid plans- Premium and Business. Premium is recommended for individuals to improve writing at work and school. Business is for organizations with teams of 3 to 149. Here are the prices:
Premium: $12/month
Business: $15/member/month
Related Read:
WhiteSmoke vs Grammarly: Wrapping Up!
Both WhiteSmoke and Grammarly are excellent tools for grammar and spelling checks, with a few downsides. WhiteSmoke may not have the best user interface, and Grammarly may seem like a costly option for some.
We tried to include as much valuable information as possible to help you pick the right tool. Indeed, no matter whichever one you choose, you'll be able to improve your writing significantly.
Have you decided on which one you want to buy yet? If yes, let us know in the comment section.
Frequently Asked Question:
Which one is more affordable, WhiteSmoke or Grammarly?
WhiteSmoke is more affordable than Grammarly. The basic plan of WhiteSmoke is priced at around $5 per month, while Grammarly comes at $15. 
Is Grammarly more accurate in terms of grammar check or WhiteSmoke?
Grammarly seems to have defeated WhiteSmoke in terms of grammar check. It offers the most appropriate solutions and points out the most number of errors.