Having a good grammar checker can uplift your content to the next level. So, today, in this article, we have listed the best grammar checkers to help you write like a pro.
A grammar checker plays a vital role in your writing. Whether you are a content writer, student, journalist, or author, every Writer depends on a grammar checker to achieve perfection.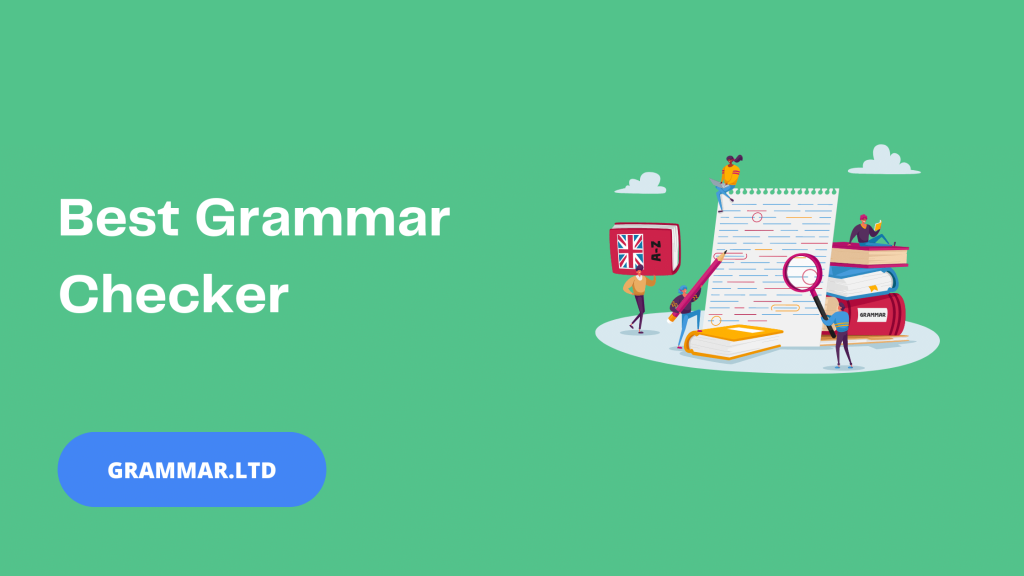 However, choosing a grammar check that suits you and your writing needs the best can be overwhelming with these many options. So, to ensure you maintain the quality of your writing, you must have an efficient yet convenient grammar checker to edit it.
So in today's post, we will discuss the best grammar checkers and how each can help you improve your writing skills. We will also provide a quick list of our top favorites for readers who do not wish to read the entire article.
So without any further ado, let's dive into the details!
Our Top 5 Online Grammar Checker Tools!
We understand that you might only have time to review some of the articles or be tired of reading extensive reviews online. So here are the top five handpicked grammar checkers that can refine your writing.
| | |
| --- | --- |
| Grammar Checker | Best for |
| Grammarly | Best overall grammar checker |
| Hemingway | Best grammar checker for beginners |
| Language Tool | Best grammar checker for different languages |
| Whitesmoke | Best grammar checker for learning writing techniques |
| Linguix | Best grammar checker with responsive software |
List of 9 Best Grammar Checkers 
If you are exhausted from reading biased or poorly researched reviews, this section is for you. Check out the best grammar checkers with an in-depth study, then select the ideal one. 
1. Grammarly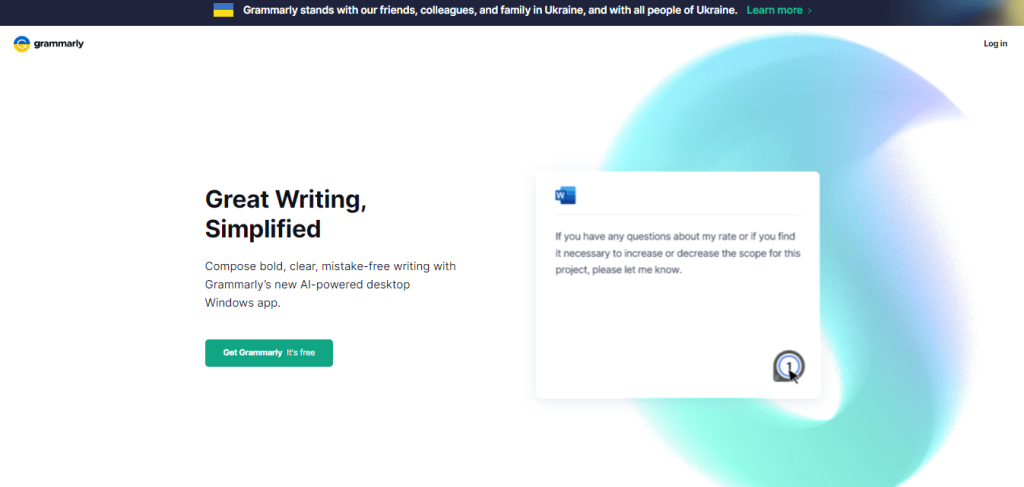 Grammarly is by far the most popular and efficient grammar checker to exist. Grammarly's diversified grammar checker can help you optimize your writing for your desired audience.
Grammarly can detect the tone of your writing and suggest changes according to your target audience to make your essay intriguing. Moreover, you can decide your writing style, fashion, domain, and intent to ensure a 100% delivery and engagement rate.
Whether you are a beginner or a professional writer, Grammarly's user integration makes it perfect for every Writer. Instead, it simply highlights the spelling mistakes, punctuation errors, and all the others.
And all the other grammatical issues by underlining the words. Thus, you can fix them by focusing on the suggestions made by Grammarly.
Key Features
AI-based grammar checker
Plagiarism checker
Seamless integration
Rephrasing tool
Mobile friendly
Performance score
Pricing
| | |
| --- | --- |
| Plan | Pricing |
| Monthly | $30 per month |
| Quarterly | $20 per month |
| Annual | $12 per month |
2. Quillbot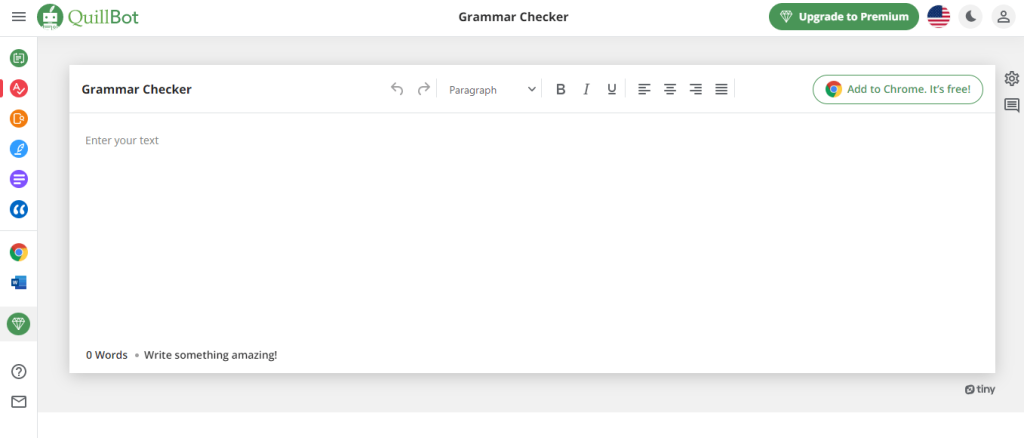 Quillbot is known as an excellent paraphrasing tool. However, people do not see that it offers services like a Grammar checker tool, Summarizer, Co-writer, Plagiarism checker, and Citation generator.
Quillbot has one of the most underrated grammar checkers that provides accurate results. The grammar checker makes your writing more readable and appealing. The grammar checker fixes your spelling mistakes and suggests synonyms that make your writing sound professional.
Key Features
Sentence checker
Punctuation checker
Polishes writing
User-friendly interface
Highlights errors
Intuitive grammar checker
Pricing
| | |
| --- | --- |
| Plan | Pricing |
| Monthly | $19.95 per month |
| Semi-monthly | $13.33 per month |
| Annual | $8.33 per month |
3. Writer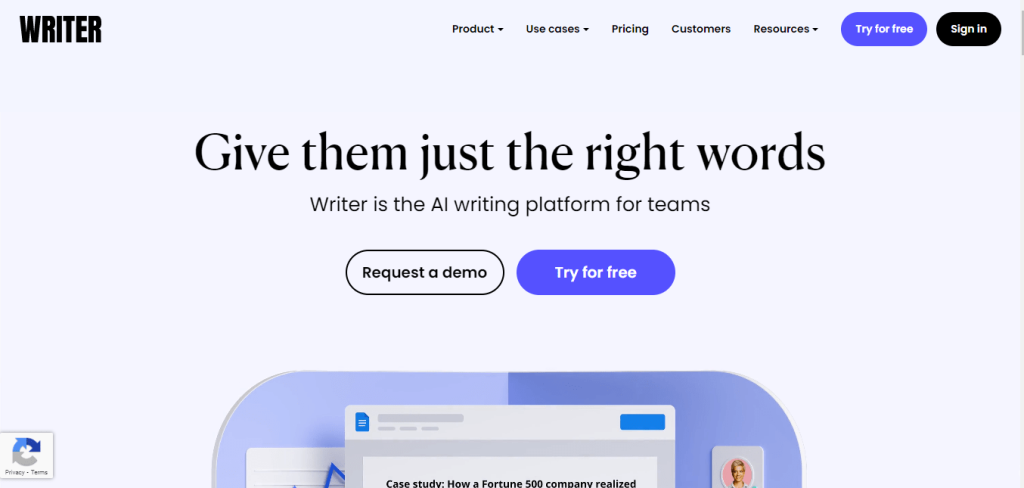 The Writer is a robust grammar checker with AI-based software that detects and corrects grammatical errors to make your writing look top-notch. The Writer is an ideal grammar checker for enterprises and businesses that require editing on a large scale.
The best part about Writer is that it gives your writing a unique edge with special customizations that can turn into your brand identity. It helps you create a voice for your brand that only is specific to you and your audience.
Key Features
Around 200 customizations are available.
Offers a chrome extension
Simple yet intriguing language
Protects your content from leaks
Accurate spelling and punctuation corrector
Provides clarity in your writing
Pricing
| | |
| --- | --- |
| Plan | Pricing |
| Free | $0 |
| Pro | $11 per month |
| Team | $18 per user per month |
| Enterprise | Custom |
4. Hemingway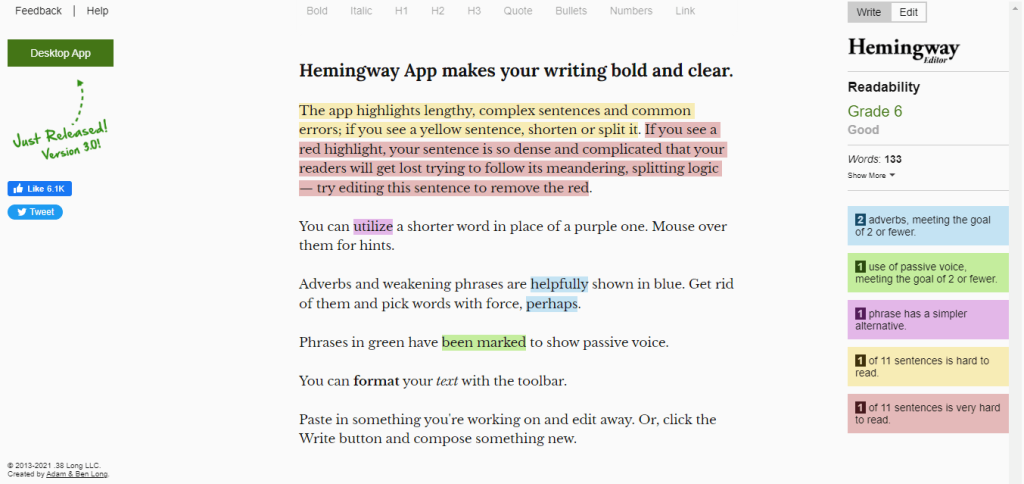 Hemingway is the best grammar checker for beginners and newbie writers with a low budget. It offers an accurate grammar checker followed by a performance grade that can determine your target audience.
Moreover, Hemingway also detects simpler versions of sentences to ensure your writing is more engaging and easy to catch up with. Finally, it offers some of the best features and functionalities for free, which you might have to pay for in other grammar checkers.
The best part about Hemingway is that it highlights lengthy and complex sentences that might confuse your audience with specific highlights so that you can see the highlight and fix your sentence to make your writing more presentable.
Key Features
Detects long words
Detects unnecessary adverbs
Tone detector
Desktop friendly
Sentence checker
Pricing
| | |
| --- | --- |
| Plan | Pricing |
| Desktop app for Mac and PC | $19.99 |
5. Ginger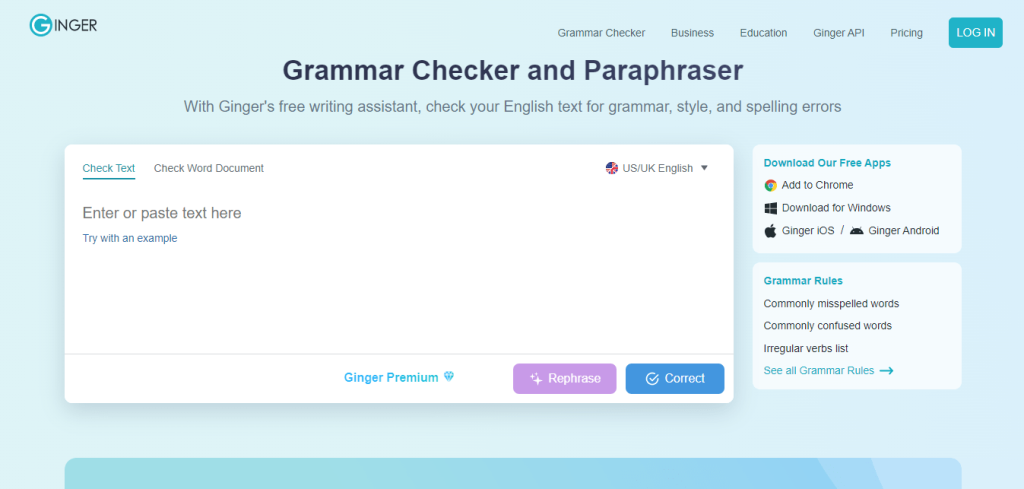 Ginger uses a unique patent-pending technology that lets you write and improve your English. An exceptional grammar checker helps you improve your language command by highlighting your spelling and punctuation errors.
Moreover, Ginger has detected repetitive words in your writing and suggests replacing them to make your writing more exciting and captivating.
Key Features
Replaces words with relatable synonyms
Subject and object correction
Suggests appropriate verbs and adjectives
Corrects misused terms or words
Sentence corrector
Beginner-friendly
Pricing
| | |
| --- | --- |
| Plan | Pricing |
| Monthly | $19.99 per month |
| Annual | $15.98per month |
| Quarterly | $12.48per month |
6. ProWritingAid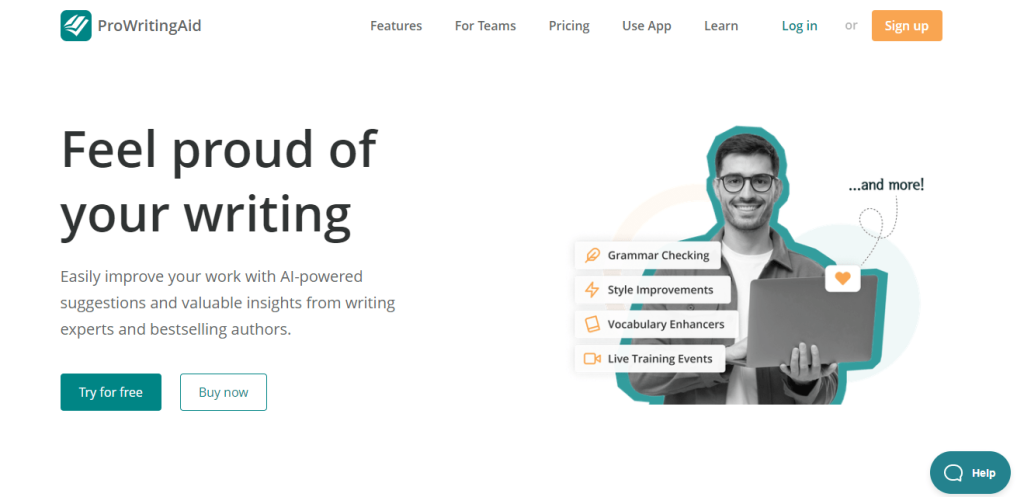 ProWritingAid offers a wide range of integrations and browser extensions for quickly editing your content. It is a flexible grammar checker that helps to detect the tone and maintain your writing style. 
It also helps in spelling corrections and punctuation fixing and lets you summarize your writing in simpler words. The unique feature of ProWritingAid that sets it apart from other grammar checkers is that it maintains the flow of your writing for increased engagement and better delivery.
Key Features
Professional spelling corrector
Word explorer
Plagiarism checker
Detailed reports
Contextual style corrector
Supports Mac and Windows
Pricing
| | |
| --- | --- |
| Plan | Pricing |
| Monthly | $20 |
| Yearly | $120 |
| Lifetime | $399 |
7. Whitesmoke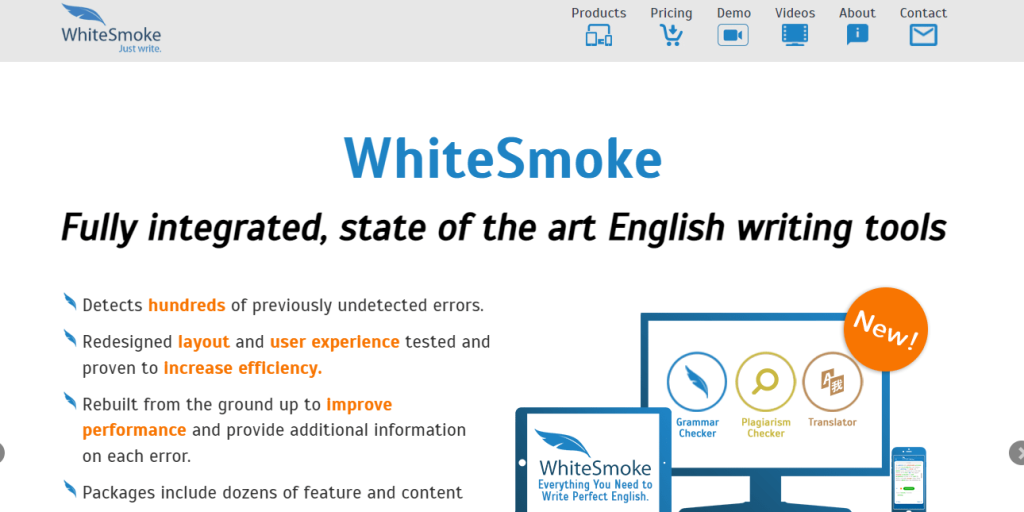 WhiteSmoke is an exceptional online grammar checker that offers selling shakes, grammatical corrections, style detection, etc. In addition, Whitesmoke has seamless integration that enables its usage on mobile, laptops, and desktops. 
Besides correcting your grammatical errors, Whitesmoke also provides video lessons and articles through which you can improve your writing skills. Whitesmoke is the perfect grammar checker for budding writers who are still learning daily.
Key Features
Integrated plagiarism checker
Offer grammar checking while writing emails
Increase efficiency
High-quality proofreading
Cutting-edge word processors
Fulfills academic requirements
Pricing
| | |
| --- | --- |
| Plan | Pricing |
| Web | $10 per month |
| Premium | $13.33 per month |
| Business | $22.99 per month |
8. Lingiux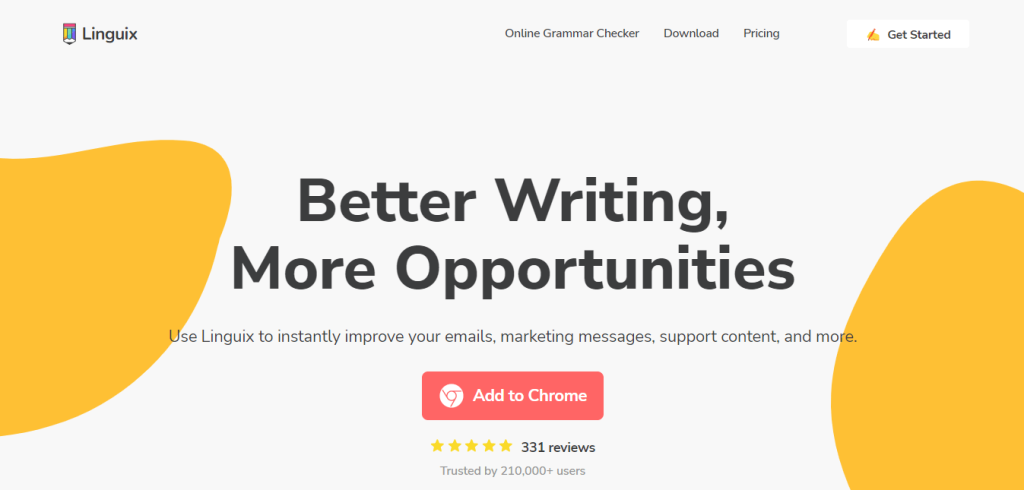 Linguix offers an AI-based writing assistant that helps you improve the clarity of your writing and hook readers till the end of your articles. Linux's vigilant software offers accurate grammatical, spelling, and punctuation checks.
Moreover, it has a copy-paste feature to transfer texts and offer relevant suggestions for relative or misused words and sentences. Responsive software also helps you improve your writing by eliminating poorly constructed sentences.
Key Features
Contextual spelling checker
Progressive style checker
Real-time grammatical corrections
Performance Analytics
Browser extension available
Missed punctuation corrections
Pricing
| | |
| --- | --- |
| Plan | Pricing |
| Free | Free |
| Premium | $8 |
| Team | Custom |
9. Language Tool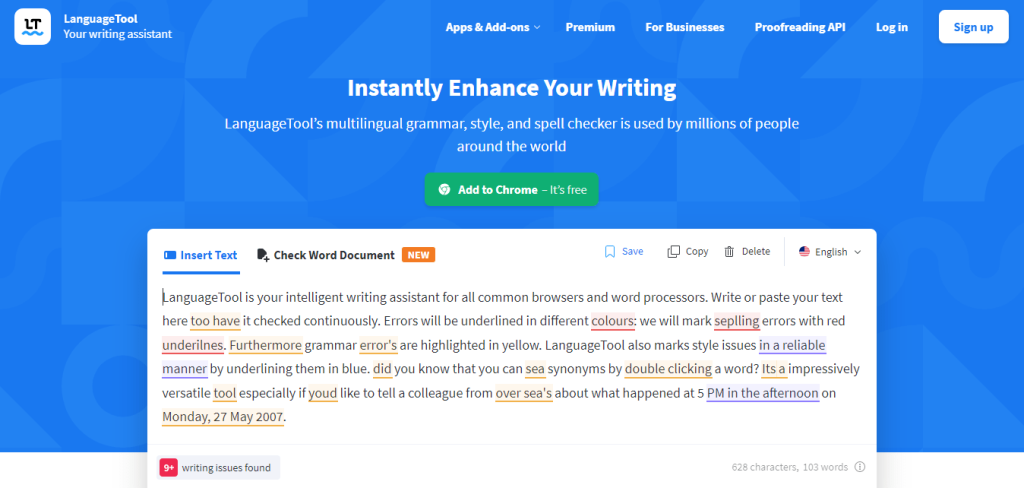 Language Tool is an outstanding gramma chair that can be used for more than 20 languages. Moreover, you can also select different English locales like South African, British, American, and Australian English.
You can change the locale to your preferred English, and it will make suggestions and corrections. This way, you can learn different writing styles from other countries and their local vocabulary.
Key Features
Free browser extension
Offers clarity to content
Personal dictionary
The dark and light view
Advanced style checker
Integrates with MS Office and Google Doc
Pricing
| | |
| --- | --- |
| Plan | Pricing |
| For beginners | $0 |
| For individuals | $19.9per month |
| For teams | $119.80 per year |
| | |
Paid Vs Free Grammar Checkers
When choosing a grammar checker, you have two options: paid or free. Free grammar checkers are widely available online and can be an excellent tool for catching basic errors.
However, free checkers often have limited capabilities and may only check for spelling mistakes, incomplete sentences, or subject-verb agreements.
In contrast, paid grammar checkers offer advanced features, including detecting passive voice, run-on sentences, and more complex grammatical errors. They also offer more in-depth explanations and suggestions for improvement.
While free checkers may be adequate for simple writing tasks, paid options are more effective for professional writing and academic purposes.
Ultimately, it depends on the individual's needs and the importance of accuracy and clarity in their writing.
Wrapping Up! Best Grammar Checker
As a writer, you know how essential it is to deliver error-free and well-constructed content. These grammar checkers help you achieve your writing excellence and avoid embarrassment from silly mistakes.
Although grammar checkers do not work like a human proofreader, they make editing and toning easier, especially for beginners and writers who are still learning; these are great options when selecting a grammar checker for your writing.
Just understand your writing needs and decide on a budget; once you do that, you will make the correct choice within no time.
If this article helped you find the best grammar checker, visit our page for more informative and beneficial posts.
FAQs: Best Grammar Checker
Which grammar checker is suitable for beginners?
There are several excellent grammar checkers on the internet for beginners. Some famous examples are Grammarly and Hemingway, which have free versions offering every essential tool. 
Can I use Grammarly for free?
Yes, Grammarly has a free version for all its users, but it has many restrictions, so you will not get the complete advantage of Grammarly in the free plan. 
Which grammar checker is best for languages other than English?
Language Tool is the best option if you are looking for a grammar checker that corrects writings in different languages.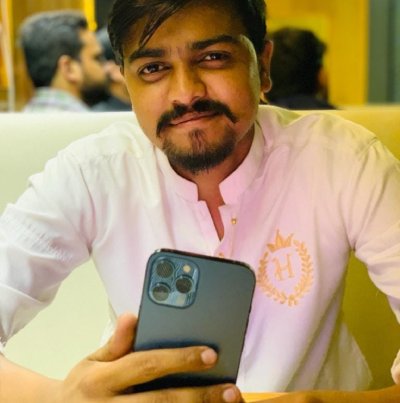 Anuj is a renowned linguist and grammarian with over 3 years of experience in teaching and researching the English language. He holds a PhD in English Language and Linguistics from Delhi University, and is the author of several highly acclaimed books on grammar and usage.