Why has Grammarly become a 'go-to' option for people worldwide? Is it worth the investment? Can you use Grammarly for free? If you have questions like these and wonder whether you should get a Grammarly or not, this is the review for you.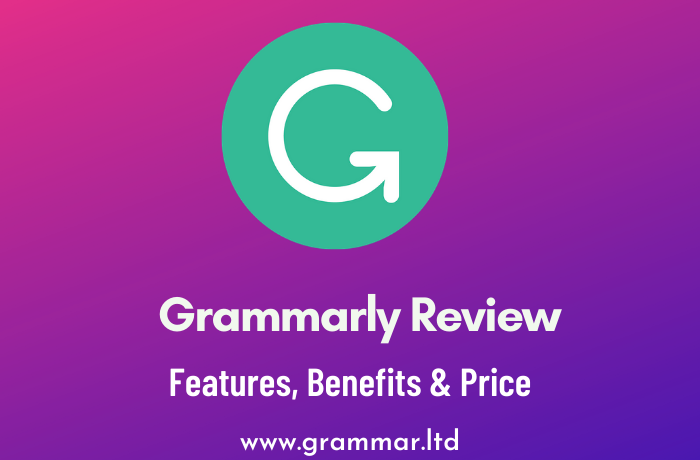 We will cover every aspect to bring you an informative article from the free version to the premium version. There will be some features to highlight, and you will learn what makes it such an 'ace' in the industry. Let's begin!
Grammarly Review – Everything Explained
What is Grammarly? Before expanding onto the review, it is pivotal to learn about it. As the name suggests, Grammarly is a tool to fix grammatical issues regarding the English language. It utilizes AI and machine learning mechanisms to provide automated suggestions that are accurate.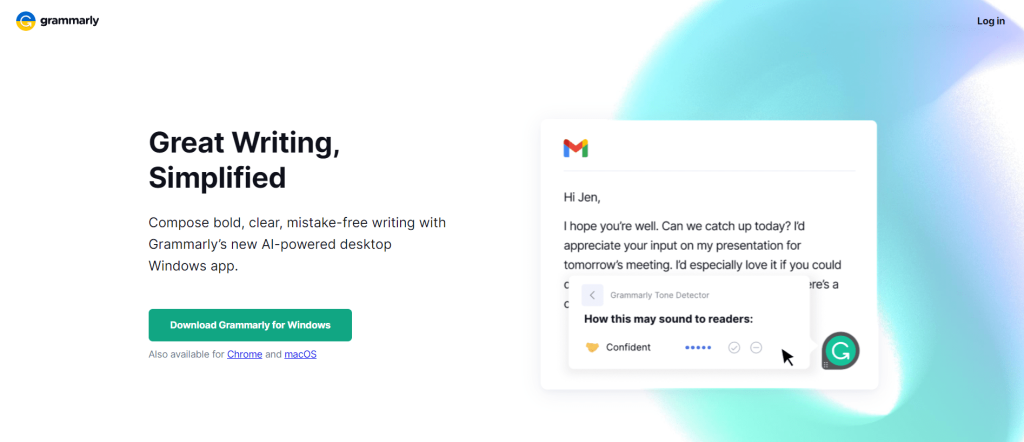 A Grammarly website, app, and an extension are available for people. Thus, it covers every segment and works on almost any device efficiently. More importantly, it doesn't just cover a single type of 'English Language.' It takes things to the 'native' level. In other words, you can have settings for it to be UK, Australian, Canadian or American English. As there are minute differences between these, Grammarly captures them.
Pros And Cons Of Grammarly:
Here is the list of pros & cons of Grammarly. Let's have a look.
Pros:
A well-versed tool that covers everything regarding Grammar.
Full of features that you won't find in other similar tools.
Cost-effective packages.
The free pack isn't entirely useless either.
Cons:
It might sometimes respond slowly and require you to relaunch.
It would help if you had a higher memory power to work without lagging.
Features Of Grammarly – The Need For The Tool
On the surface, it might look like there isn't any requirement for the Grammarly tool. Almost every writer in this world believes their Grammar is perfect. However, there is always some little detail or grammatical mistake that ruins everything.
At a glance, Grammarly's features include:
Checking the spellings according to the nativity.
Checking the sentence formation, structure, and any punctuation mistakes.
Any other grammatical mistake, including the use of passive or active voice.
Word suggestions to enhance the vocabulary for a better impression on the readers.
The plagiarism checker ensures the content isn't copied or that you won't get any copyright claim strike.
Let's take a more thorough tour of its tools.
1. Spelling Checker
It is perhaps the most helpful feature of Grammarly. As there are countless variations of English, it can become daunting to use the correct spelling. It is 'Offense or Offence?' Should you use 'Armor or Armour' for the words? It all depends on the nativity. But that's not all.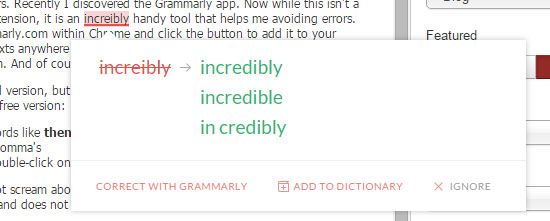 Often, when rushing a sentence or writing fast, you can misspell the words. Grammarly immediately highlights them in red for you to check. If you click on the words on the right-side panel, it will show you the suggestion for the correct spelling. Thus, you can fix it instantly.
2. Sentence Checker
Often, some sentences could be shorter or written more proficiently. Grammarly can scan these sentences and provide you with suggestions. The sentence structure makes it easier for readers to process them while enhancing the quality of the writing.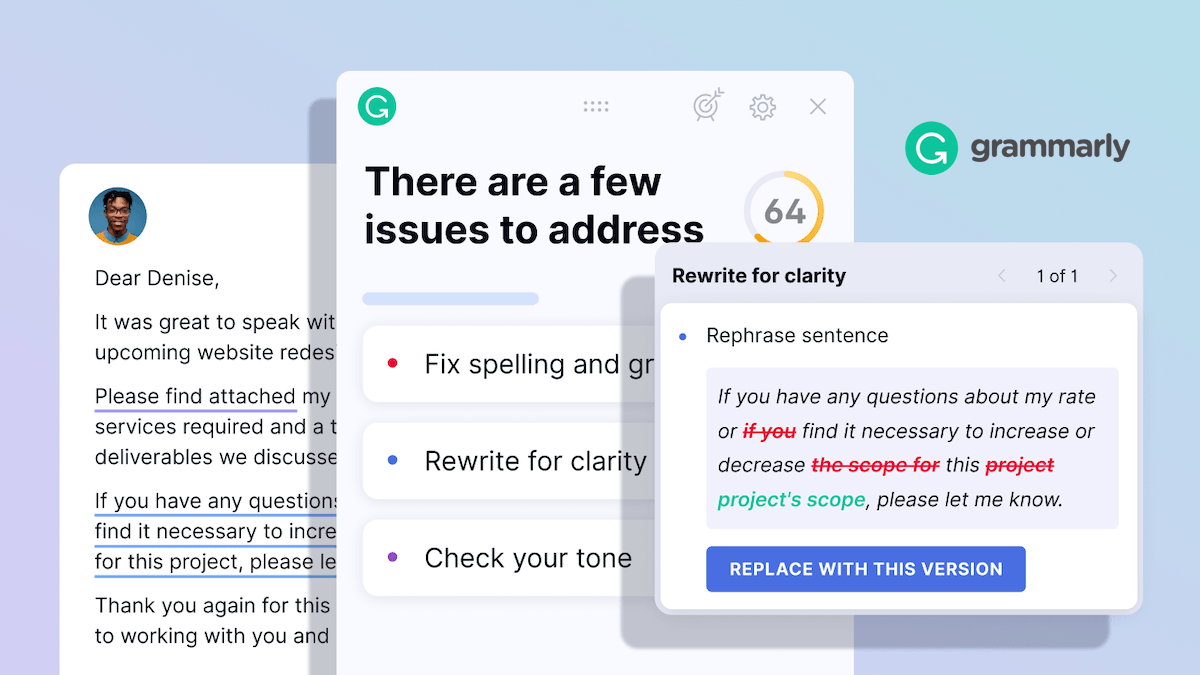 Let's take the first line as an example:
As you can see, the blue line suggests that the sentence could've been written better.
If you click on it:
Such is the proficiency of Grammarly that makes it stand out.
3. Grammatical Mistakes Checker
A grammatical mistake can significantly impact the quality of your writing. You could've missed an 'A' or 'The' or something similar in a sentence and would never catch it. A proofreader might miss it as well. However, the automated process of Grammarly prevents you from committing such grave mistakes.
Here is a quick example:

Thus, you can be assured that you will always receive the most grammatically correct written content possible.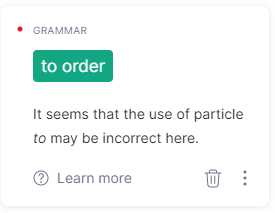 4. Punctuation Checker
Another grave mistake people make is the use of punctuation. It is not easy to always know where to use the correct comma or a full-stop. Sometimes, you have to do the guesswork. However, Grammarly eliminates the guesswork and ensures that you know what you're doing.
Here is an example:

Even something as tiny as a comma before the 'and is pointed out for you to ensure you never run into a grammatical problem.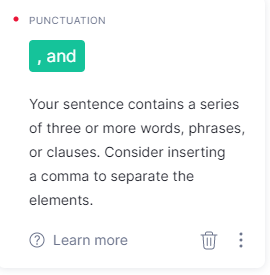 5. Plagiarism Checker
Grammarly also comes with a built-in tool for checking plagiarism. Thus, if you use it, you will get minor copy mistakes and reference links. You can check these links to see if the copied content is relevant or random. While it is not 100% efficient, it cross-references all the sources to ensure you don't match another written content. And this is quite a remarkable feat.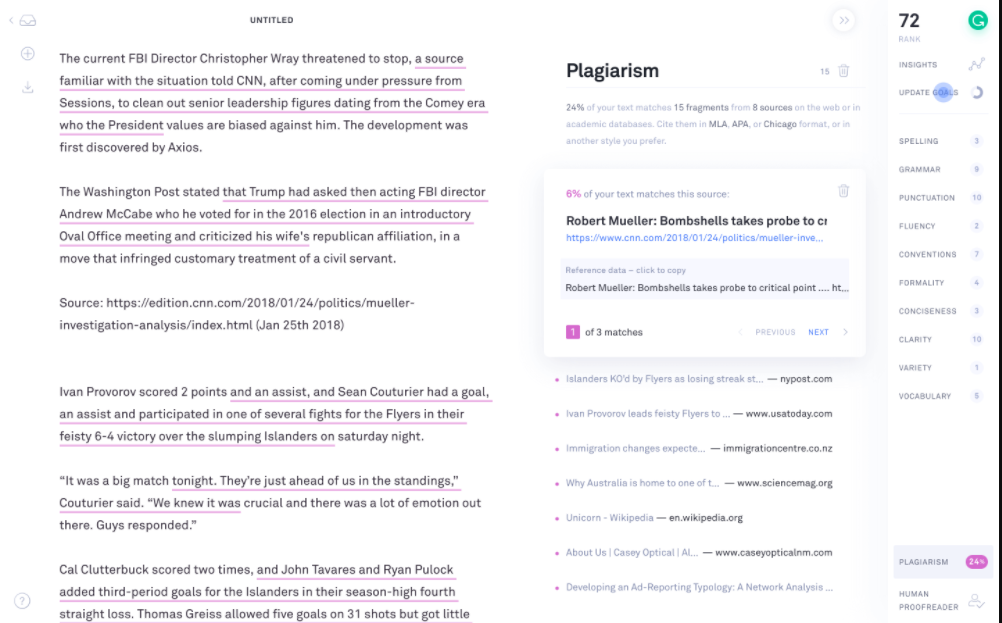 Word/Tone Suggestion:
Can you learn while you work? If you're a writer, you can reap the benefit of the tone and vocabulary suggestions from Grammarly. It can certainly help anyone improve their vocabulary and writing to maintain a specific flow.
The vocabulary enhancer ensures that you always get different words for something with the same meaning. It reduces the repetitiveness of the word and makes the article feel fresh.
Similarly, tone suggestions include passive voice, formal tone, confusing tone, and much more. These perks make Grammarly a much better tool than just another grammar-correction tool.
Grammarly App VS Extension VS Website:
Almost every version of Grammarly works proficiently. Once, the extension for Google Chrome wasn't up to the mark, but things have changed. Today, it has become people's go-to option. Here is a quick overview:
1. The Grammarly Plug-Ins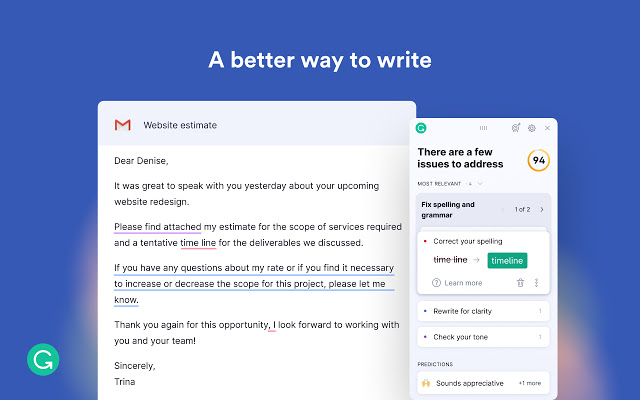 It is almost like a plug-in that you download and use with pre-existing word applications—the plug-in works with virtually any prominent writing tools like Microsoft Word, Google Docs, and much more. You can download it and start using it immediately. Of course, the Plug-in is much more well-versed than extensions as you can directly access the settings, change the nativity, and much more.
2. Grammarly Extension
You can install and use Grammarly Extension on any Chromium-based web browser. Thus, it works with Google Chrome, Microsoft Edge, Firefox, etc. However, it works best with Google Chrome for some reason. Today, the extension has almost everything that the plug-in or app does, except for the settings. For that, you would have to visit the website.
3. Grammarly Website /App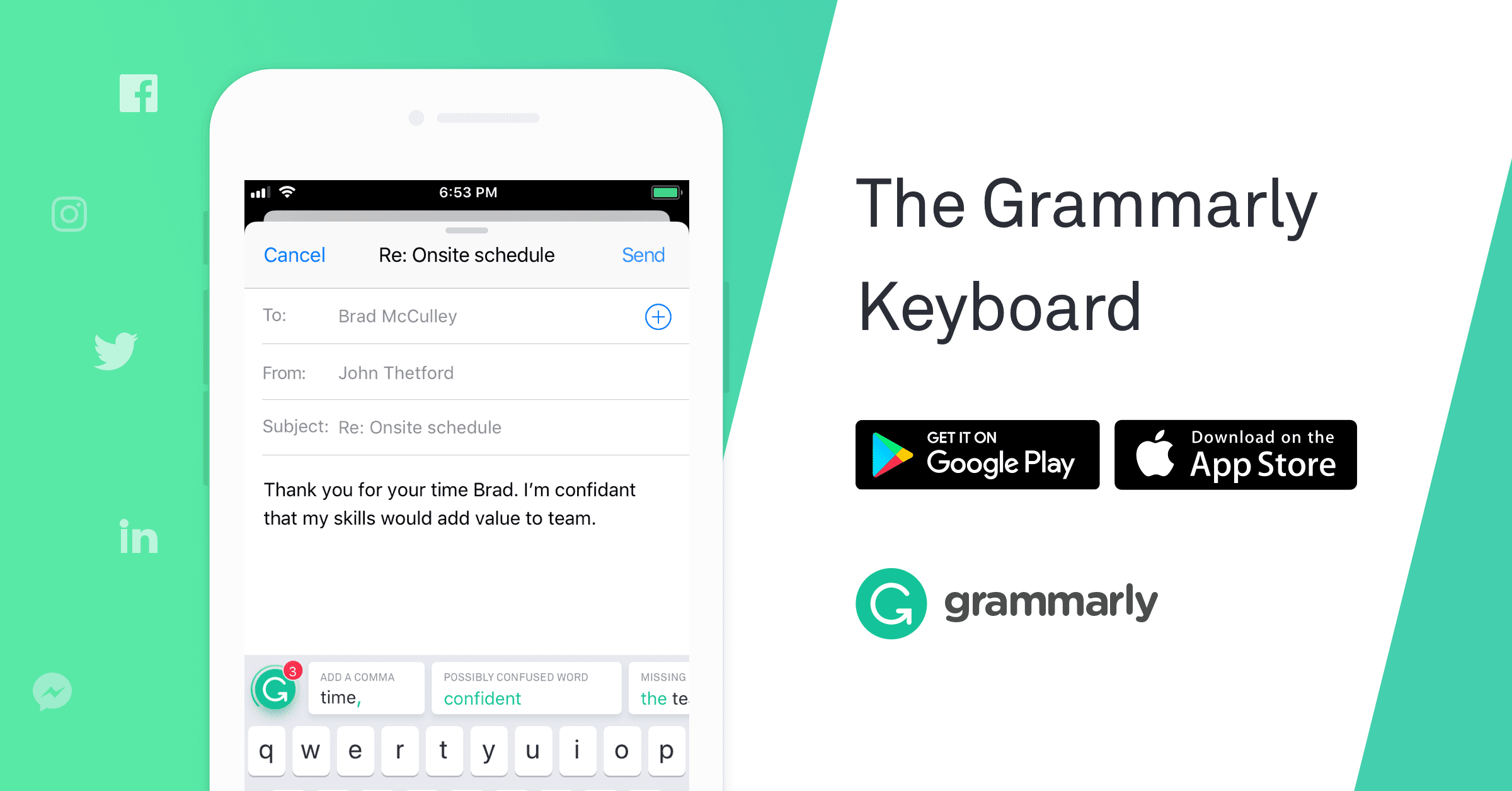 The Grammarly website looks almost like a Google Docs clone. You can create new documents right there and start writing. Most of it is easy to use and efficient. This is where you can explore the true potential of Grammarly. However, it is also the least used option because Grammarly can work fine with other apps like Google Docs, Microsoft Word, and much more.
Grammarly Premium VS Grammarly Free – Which One Is Better?
Note: Check out our Grammarly Premium Free Trial here to save some extra bucks.
It shouldn't even be a question because a premium service will always be better than a free service. However, Grammarly doesn't make the free services entirely useless. If you check the free package, it is pretty cost-effective.
1. What Does Free Version Give?
The free version will get the job done with the basic spelling checks, grammar suggestions, etc. It will keep your writing clear but won't provide any improvements. You are stuck with the bare-basic correction tool.
2. What Does Premium Bring To The Table?
The Premium package analyzes the sentence formation, readability, and tone and even provides better vocabulary suggestions. It can reorganize your entire sentence structure, making it worthwhile.
3. Who Should Use Premium?
A freemium version might be viable for a primary user who isn't a content writer, just a student or office worker. However, if your life or profession depends on writing, you might want to consider a premium version.
Even blog, review, and content writers like us utilize Grammarly to ensure we won't make any adverse grammatical mistakes. Such is the excellence Grammarly brings to the table.
Grammarly Premium Package & Pricing – Is It Worth It?
Note: Check out our Grammarly Student Discount here to save some extra bucks.
Grammarly offers three different pricing plans to all its users, which are very cheap and affordable for all.

1. Free Plan: This plan is absolutely free of cost, so you don't need to pay a single penny for it. It offers features like:
Spelling Checker
Grammar Checker
Punctuation
Number of licenses 1
Tone Detection
2. Premium Plan: This premium plan costs you $12 per month with robust features like:
Tone adjustment
Word Choice
Plagiarism Detector
Formality level
Clarity sentence rewrites
Fluency
3. Business Plan: This business plan starts at $12.50 per month. This plan is best suited for professionals for a team of 3 to 149, with advanced features like:
Style Guide
Brand Tones
Snippet
Priority email support
SAML SSO
Analytics Dashboard
Grammarly Education Version:
Not many people know about it, but a Grammarly Education version is available for you to try. You have to send them a personal email to the support. A representative from Grammarly will reach out to you and discuss the plan with you. This is the same as getting a discount for an educational institute or a student.
Thus, the Education version is not that different from the Business version, but you get better discounts on the pricing. It can be as marginal as 50% off or even a couple of months free. You would have to prove that being an educational institute, or associated with one, to reap the benefits, but it is worth the effort.
A Self-Sufficient Way To Proofread:
Do you need Grammarly? The requirement for a Grammarly tool arises similarly as one hires a proofreader. We can't re-read the written matter as it might get boring or consume too much time. Thus, we hire someone to do the bidding for us. It is usually another writer. Not everyone is a writer, and this makes us prone to mistakes.
Grammarly works just like your automated proofreading tools, picking out any mistakes, spell checks, sentence formations, and even providing suggestions for the words. Thus, it is a much more efficient tool. More importantly, it would cost a fraction of what you pay a proofreader.
Thus, Grammarly has become an indispensable tool. It is also fantastic for:
Writing official letterheads, emails, or proposals.
Writing blogs, content, and other copywriting activities.
For book publishing, spell checking, or writing a paper.
In short, there are endless uses of Grammarly that make it worth the investment.
Verdict – Grammarly Has Created A Niche
There isn't a doubt that before Grammarly, nobody knew about such tools much. While there are many other alternatives available for you, even for free, nothing can match the expertise of Grammarly. It also has robust customer support.
The interface is easy to understand and use. Overall, it remains top-in-class for its wide assortment of features, ease of use, security, and much more. It might seem a little costly for some with annual subscriptions and such. However, if you are a professional, it will be worth the money.
It is cost-effective and certainly something to opt for.
Frequently Asked Questions:
Is Grammarly legit?
Yes, Grammarly is a legit platform because it helps you detect and fix errors in your writing, whether you are a writer, blogger, or author.
Can I use Grammarly for free?
Yes, you can try Grammarly for free. It offers a free plan to all its users for a lifetime.
On which platforms does Grammarly work?
Grammarly works on Windows, MAC, Android, and IOS.
What payment method does it accept?
It accepts Paypal and all kinds of credit cards like Visa, Master Card, American Express, and Discover.
Related Read:
Conclusion:
This marks the end of the article and the review. We aimed to cover every aspect, even the lesser-known ones. As mentioned earlier, there are many other alternatives to Grammarly, but nothing can quite match its proficiency and years of evolution.
Either way, we hope you can make an informed decision and now find it worth the use or, at least, the consideration. So, go ahead and enjoy Grammarly for a flawless writing experience.