Whether you are a beginner or a professional, you may have wondered which is the best paraphrasing tool amongst all the available tools.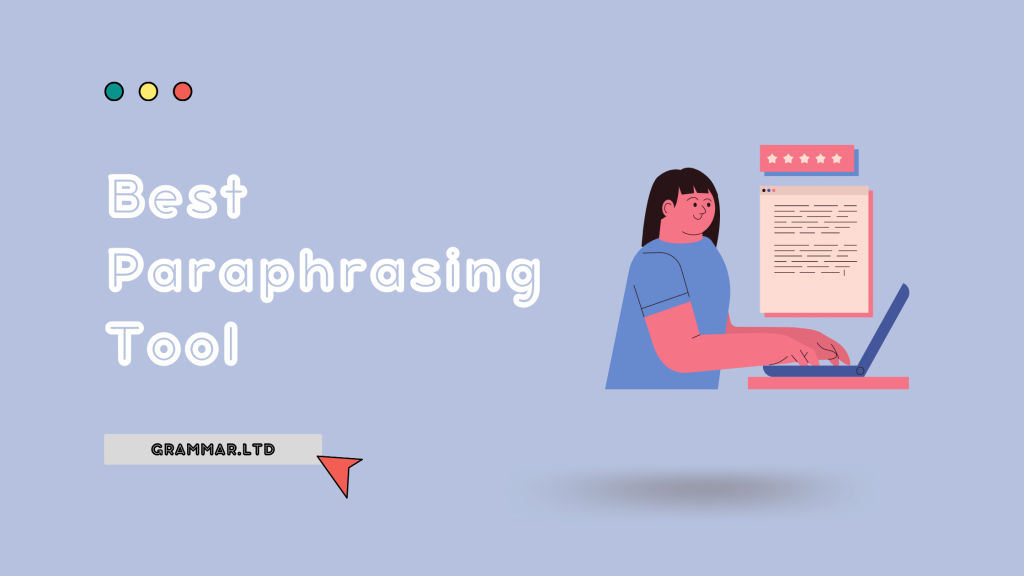 Paraphrasing tools are popular among writers, students, professors, and blog writers. However, picking the correct paraphrasing tool from hundreds of options can be challenging. More importantly, you need to understand which paraphrasing tool fits your needs the best.
Hence, this article has lined up our top 9 favorite paraphrasing tools that provide an excellent rewriting experience and zero plagiarism. This list is based on our expertise and in-depth research so that you can count on these tools!
With that, let us quickly dive into our article!
Our Top Pick For Paraphrasing Tools: In a Nutshell.
We try to meet every reader's needs and understand you might not have the time to go through the entire article. So, here is a quick review list of why we think these paraphrasing tools are the best!
| | |
| --- | --- |
| Paraphrasing Tool | Our Verdict |
| Quillbot | Helps in refining your content and writing creatively. |
| Spin Rewriter | Highly advanced software that rewrites bulk content in seconds |
| Chimp Rewriter | Paraphrases content in multiple languages |
| Spinbot | This paraphrasing tool rewrites your text into smart and readable text |
| Paraphrase Online | Best for beginners who want to translate text into simple language. |
| CleverSpinner | It sharply reads and rewrites your text word by word. |
| SEO Magnifier | Best paraphrasing tool to improve your SEO ranking |
| Wordtune | It offers several paraphrased options for your content. |
| Pre-post SEO | This tool rewrites content in a meaningful way to avoid plagiarism. |
This section will provide you with a detailed review of our hand-picked paraphrasing tools. So keep reading to understand which paraphrasing tool is the best choice for you.
1. QuillBot Overview:
The reason why QuillBot tops the list is that it is an AI-based paraphrasing tool. However, what makes it unique is its comprehensive software that understands your writing before rewriting it.

The tool offers an accessible and userfriendly interface that helps you write more creatively, refines your content, and lets you adjust the tone of the writing according to your requirements. Furthermore, QuillBot gives you naturally flowing content in less than a minute.
One thing that we like about QuillBot the most is that it does not limit itself to just being a paraphrasing tool. It also offers a grammar checker, summarizer, co-writing tool, plagiarism checker, and citation generator.
Key features:
Provides an AI tool that writes in 5 styles- Standard, Fluency, Creative, Creative+, and Formal.
Enable shortening or expanding your text.
The Word Flipper tool, operated by an AI-powered thesaurus, offers you options to replace the paraphrased text.
Provides up to 700 character limit.
Enables Google Chrome and Doc extension.
Pricing: While QuillBot provides many features in its free version, it does come with some restrictions. To unlock all its powerful functionalities, you must upgrade to its premium version. It has three plans for users, starting from $9.95 per month to $4.17 per month, depending on the monthly, semi-annual, and annual subscriptions.
2. Spin Rewriter Overview:
When it comes to paraphrasing human-like content with the help of high-tech features, Spin Rewriter is our best choice. This powerful tool lets you paraphrase your content with the Emulate Natural Learning technology. When it comes to efficiency, Spin Rewriter is the only tool on the internet to provide such quick results with a high-functioning technology.

Additionally, Spin Rewriter frames words, sentences, and paragraphs using its AI-based software. The process of paraphrasing starts with analyzing your text, catching hold of it, and then providing you with results.
Key Features:
Provides hundreds of unique and quality articles in seconds
Helps with better and higher SEO ranking
Integrated stock photos
Spins content in bulk
Offers comparison between the original text and rewritten text
Pricing:
Spin Rewriter does not offer a free version. However, it does offer you a five-day free trial to check whether it works for you. The plan starts from $47 per month to $497 for a lifetime plan.
3. Chimp Rewriter Overview:
Chimp Rewriter ranks among our top 3 Paraphrasing tools because of its powerful functionalities like Artificial Intelligence and Natural Language Processing Technology. These high-tech tools paraphrase your content with accurate results at lightning speed.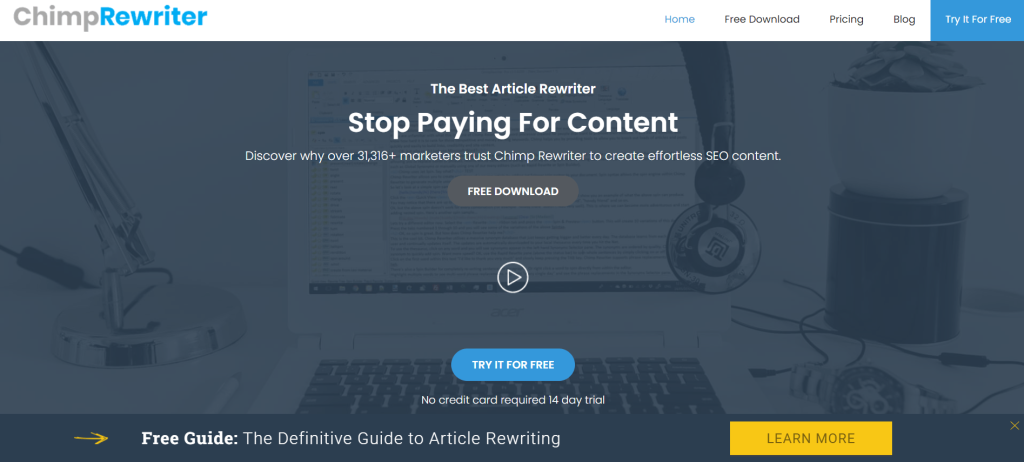 In addition, Chimp Rewriter is the best essay and SEO article rewriter. Other than its cutting-edge performance and high-ranking results, it offers you paraphrasing multiple languages. It uses the same algorithm to paraphrase the content used by search engines, ensuring the quality of the content is unique and passes any plagiarism checks.
Key Features:
Paraphrases content in seconds
Creates unique texts in simple and complex forms
Excellent API integration
Automated insertion of relevant photos and videos while rephrasing
Accurate comprehension of content
Pricing:
Chimp Rewriter offers a 14-day free trial to its users to decide whether it works. It offers two plans -monthly and yearly starting at $15 per month and $99 per year, respectively.
4. Spinbot Overview:
If you want to deliver straightforward content, Spinbot is the best paraphrasing tool to do that. This paraphrasing tool spins and rewrites content that is smart yet readable. Spinbot creatively rewrites the content while maintaining the original tone, narration, and gravity.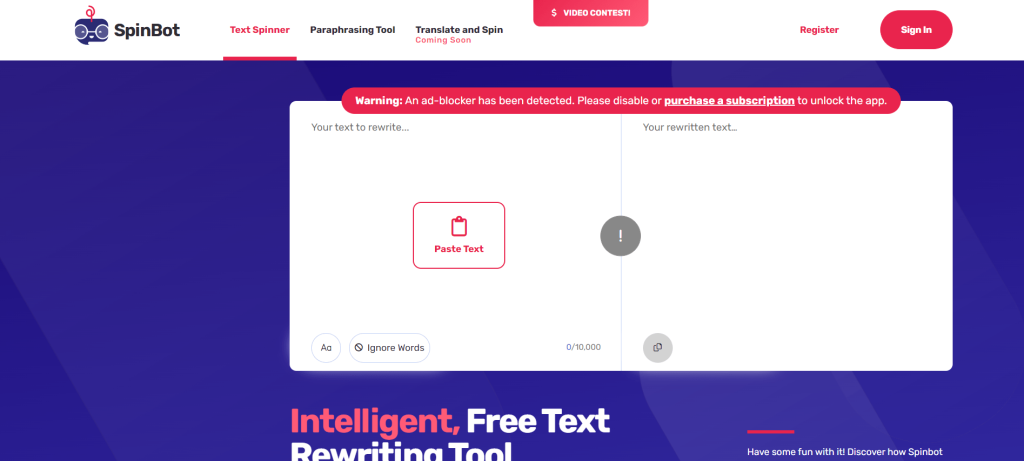 Spinbot is a contextually-intelligent software that helps you paraphrase content for better SEO ranking. Furthermore, the tone of the rewritten content is fresh and flowy, which makes Spinbot an excellent choice for marketing your websites and products!
Key Features:
Paraphrases 10,000 characters instantly.
Reforms your old website blog into a completely new one with a single click.
Spinbot API lets you integrate websites, apps, or any web-related software.
The ignore option enables you to preserve specific chunks from your original text as they are.
Unlimited creation of web content.
Pricing:
Spinbot offers a free version with multiple spins and no time restrictions. However, it does come with some barriers. To access it entirely, you must upgrade to their premium subscription that starts at $10 per month and goes up to $75 per year, depending on the plan you pick.
5. Paraphrase Online Overview:
If you are a beginner looking for a paraphrasing tool with a function that is easy to understand, Paraphrasing Online is the best tool for you. It has a simple operating software with a user-friendly interface. Using this tool, you have to enter your text and click on paraphrase, and Paraphrase Online will do the rest for you within seconds.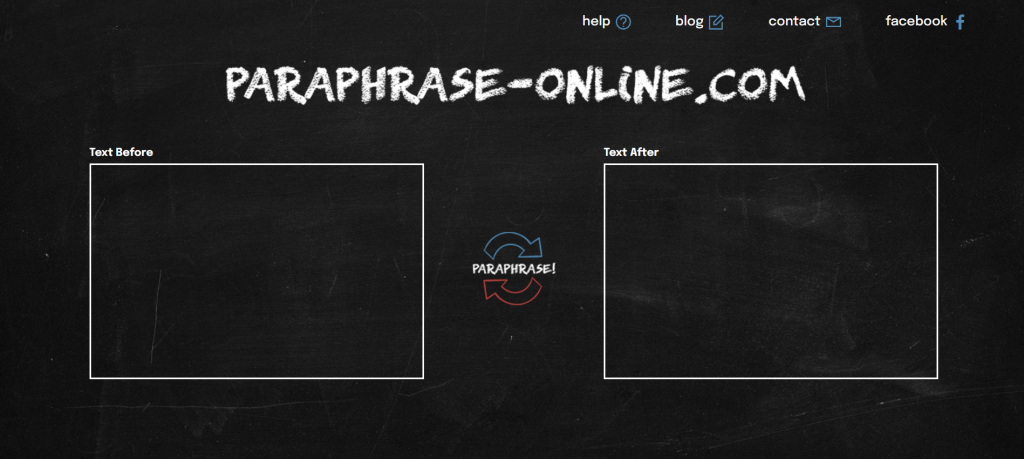 Lastly, Paraphrasing Online provides you with the best articles, sentences, and article rephrasing while reducing most of your work.
Key Features:
Excellent synonym generator
Offers textual content for websites, blogs, and business documents
Unique algorithm enabling synonymization and detection of words
Converts the original text but preserves its meaning
Extensive language dictionary
Pricing:
Paraphrasing online is entirely free, and anybody and everybody can access it for however long they wish to.
6. CleverSpinner Overview:
Living up to its name, CleverSpinner is a paraphrasing tool that rewrites your content cleverly using AI-based software. It keenly understands and rewrites your content, sentence by sentence to provide engaging and readable content for your audience.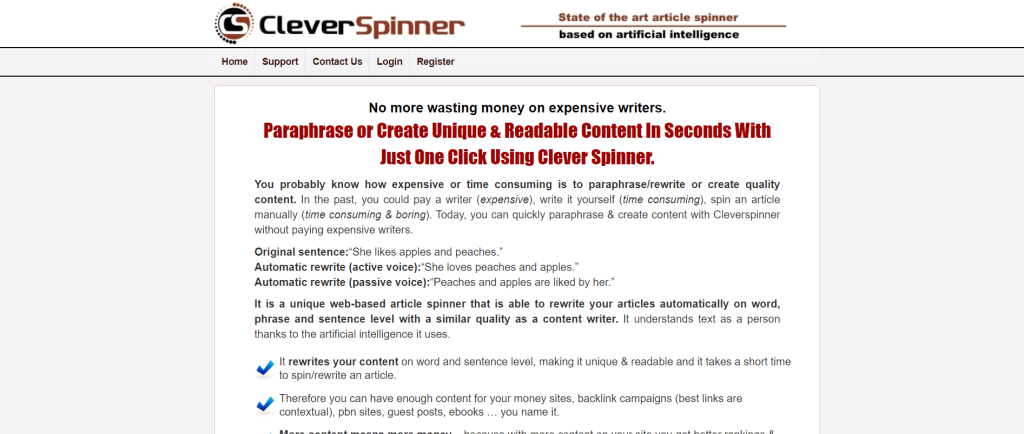 Unlike some paraphrasing websites, CleverSpinner understands your content and then rewrites it with appropriate synonyms. As a result, you do not have to spend much time checking and correcting your work. It definitely works as easy as it sounds!
Key Features:
Spins up to 500 words within seconds
User-friendly
Maintains the active and passive voice balance of the text
Paraphrases complex sentences,
Determines minute grammatical errors
Pricing:
Clever Spinner offers a 3- day free trial for its users to determine whether it fits their needs or not. In this free trial, you have access to all its powerful functionalities. However, it comes for a minimal period. So to get full access, you have to upgrade to their paid plans that also come with a 30-day money-back guarantee. Their pricing plan includes a monthly subscription that will cost you $9.90
SEO Magnifier Overview:
SEO Magnifier is the best paraphrasing tool if you are a content writer or a blogger. SEO Magnifier is a paraphrasing tool that helps you rewrite unique content for your SEO ranking to promote your websites and products.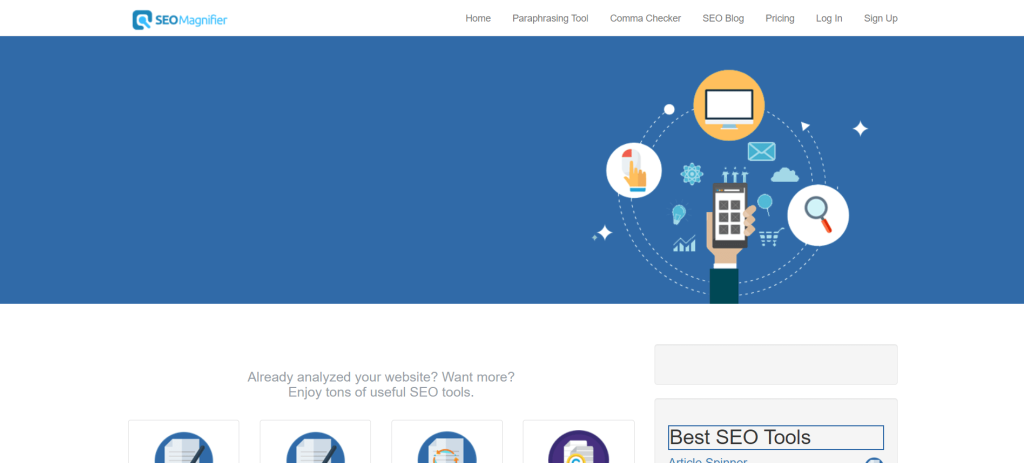 From Paraphrasing tools to article rewriters, world changes, and much more, SEO Magnifier can be your one-stop destination for everything. This tool churns out engaging content for your audience and saves you plenty of dollars. In addition, it is available online and offline to save you from going through extensive writing and editing.
Key Features:
Provides plagiarism checker, and online plagiarism changer
Offers paraphrasing in 7 languages
Punctuation detector
Keyword ranker
Pricing:
SEO Magnifier provides premium plans for individuals and teams. They do not have their prices listed specifically for users. You must contact their support to get their pricing, and they will revert within 1-2 days.
8. Wordtune Overview:
With its AI-based technology, Wordtune tries to understand human language. Our favorite part about Wordtune is that it does not merely paraphrase the content. Instead, it provides you with several rephrased options for your content. It is up to you to pick the version you like.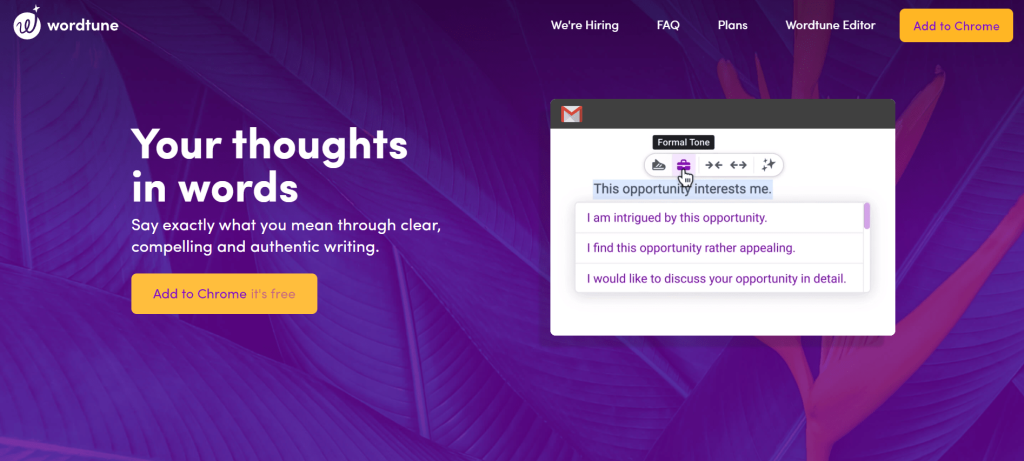 Furthermore, Wordtune offers a user-friendly interface and helps users rewrite content with AI-based technology. It is like a writing companion that enables you to say what you want precisely. What is impressive is that it offers a free version that you can use to paraphrase the content.
Key Feature:
Provides a style editor
Excellent grammar checker
Enables autocorrection
Plagiarism checker
Determines the tone of the text
Pricing:
Wordtune two premium plans which are as follows:
Premium for individuals- This plan is perfect for people who work solo. It starts at $9.99 per month.
The premium for teams- If you work in a group or own a company, this plan is best suited. The pricing of this plan is curated depending upon the number of members, so you are suggested to contact Wordtune's customer support via email.
9. PrePostSEO Overview:
Last but not least on our list is PrePostSEO. This robust tool is a very operative paraphrasing tool with substantial results, and its easy-to-use interface makes navigation simple through its website. This tool rewrites your content in a meaningful way avoiding any plagiarism. It also provides unique content without changing its gist, resulting in a good SEO ranking.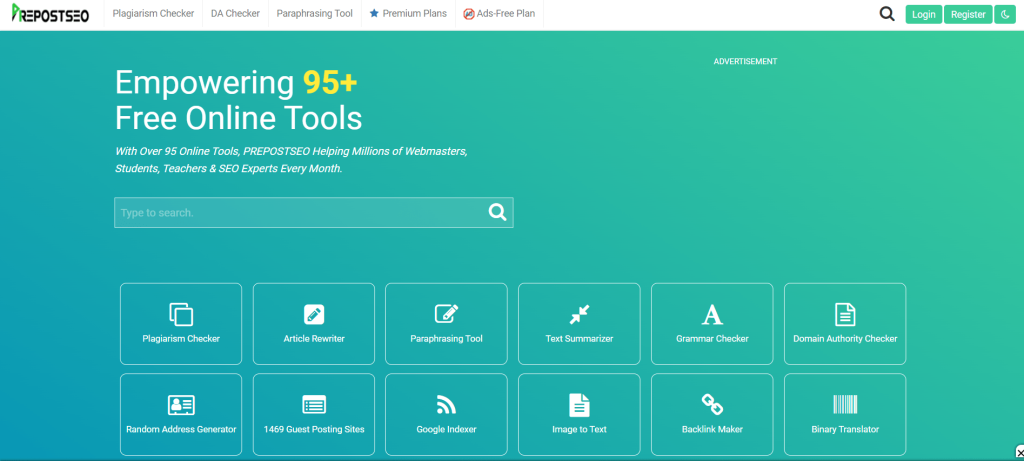 ProPost SEO paraphrases all kinds of files such as text, PDFs, and .doc/.docx without any restrictions. It provides you with original content within seconds, so you can go ahead and paraphrase content for free! Yes, the tool is completely free to use.
Key Feature:
Keyword density checker
Image to text conversion
Backlink verifier
Provides accurate grammar checks
Offers a plagiarism checker that compares your content to millions of web pages.
Pricing:
PrePost SEO does not have any premium plans as of now. Their tools and functionalities are open to everyone for free.
Related Read:
Wrapping Up!
And that's a wrap for our list of best paraphrasing tools. Now that you have read the entire article, you must have realized that all of the above paraphrasing tools have powerful functionalities and share similar features.
However, if you are overwhelmed with the options and need one quick suggestion to choose the best paraphrasing tool before you leave our page, we would recommend using QuillBot. It is a one-stop destination tool to meet all your requirements and needs within a budget.
With that, we hope our list of best paraphrasing tools helped you pick one. Over to you. Which tool are you choosing from the list? Let us know in the comments section below.