After Grammarly, Ginger Grammar Checker is another most popular tool to check and correct grammatical errors in writings. Over the last few years, this powerful grammar-checking tool has built a massive reputation in the digital world with 10+ million global users. It is steadily growing and becoming more popular with every passing year.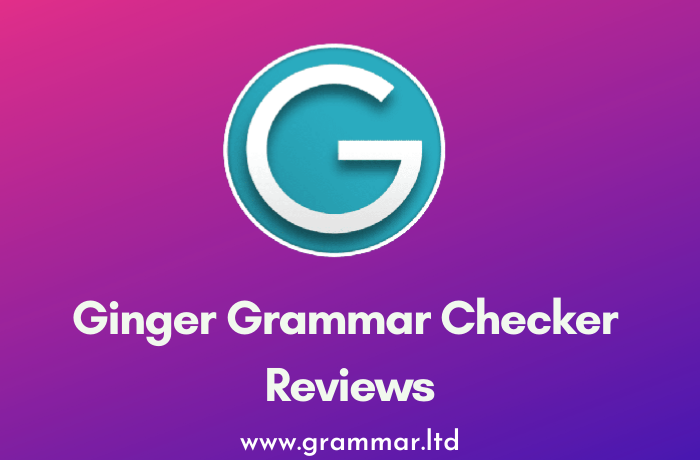 Though, the reasons behind the mushrooming demand for Ginger Software are self-evident. The ginger tool offers much more than just a standard Grammar checking services to its users. In this Ginger Grammar Checker Review, we'll discuss all these grammar tools, so you get a clear insight about Ginger Tool and where it stands as per requirement.
Why Should You Use Ginger?
Surprisingly, the Ginger tool has a long-lived position in the industry with a decade in history. Still, people share lots of opinions about this Ginger Tool. Therefore before we know more about this grammar tool, let's understand the key purposes for which this tool has been built.
This Grammarly software meets the following requirements of the writers:
The ginger tool analyzes the article and detects the grammatical error.
Users can use Ginger Grammar Checker Software For sentence rephrasing purposes.
Personalized Practice sessions help the users to overcome mistakes they often repeat while writing.
These are the three main purposes of the Ginger tool, and to some extent, the tool seems to be successful. The tool pinpoints all the writing issues, so you analyze and try to improve yourself. Writers, Bloggers, or Journalists can use this grammar checking tool. The tool doesn't just help you find the grammatical mistakes but suggest your writing style as well.
But there is a minor shortcoming of this tool as users encounter difficulty while reading the clunky sentences. It makes the whole paragraph hard-to-read for the users. It's no surprise that this problem can also frustrate you. Next, we will talk about how you can use this Grammar Checker and how it works.
How Does Ginger Software Work?
There's nothing too complicated about using the Ginger Software. Simply visit the official Ginger website, where you will be asked to download the Ginger Extension to your web browser.
(Note: the extension is available for both chrome and safari browsers)
After downloading the extension and enabling it, you will see Ginger Tool on the top right-hand side of your web-browser screen.
It's worth mentioning that for this, you don't pay a single penny; even after downloading the extension, you can start using the Ginger Tool "FREE OF COST."
Meanwhile, if you cannot use the software, make sure you have sufficient space on your laptop. Chrome itself consumes a big chunk of RAM from your computer. In the due if your computer hands, delete the caches and history of the chrome and restart.
So this was all about how you can start using Ginger Grammar Checker after a few simple steps. But before you dive in, first, don't forget to take a sneak peek into Ginger software features about which we'll discuss next.
Ginger Software Features:
1. Grammar checker
The ginger tool detects all types of grammatical, punctuation, and spelling mistakes. The tool almost displays all types of errors that your writing has. But in rare scenarios, it happens that Ginger may give you incorrect suggestions.
The tool also provides you a decent idea about your writing style, and through your mistake analysis, it helps you to overcome it. Although, for non-native writers, the tool is a wonderful gift as the Ginger Advanced algorithm guides the writer on 'how to write an accurate sentence' if they are doing it wrong.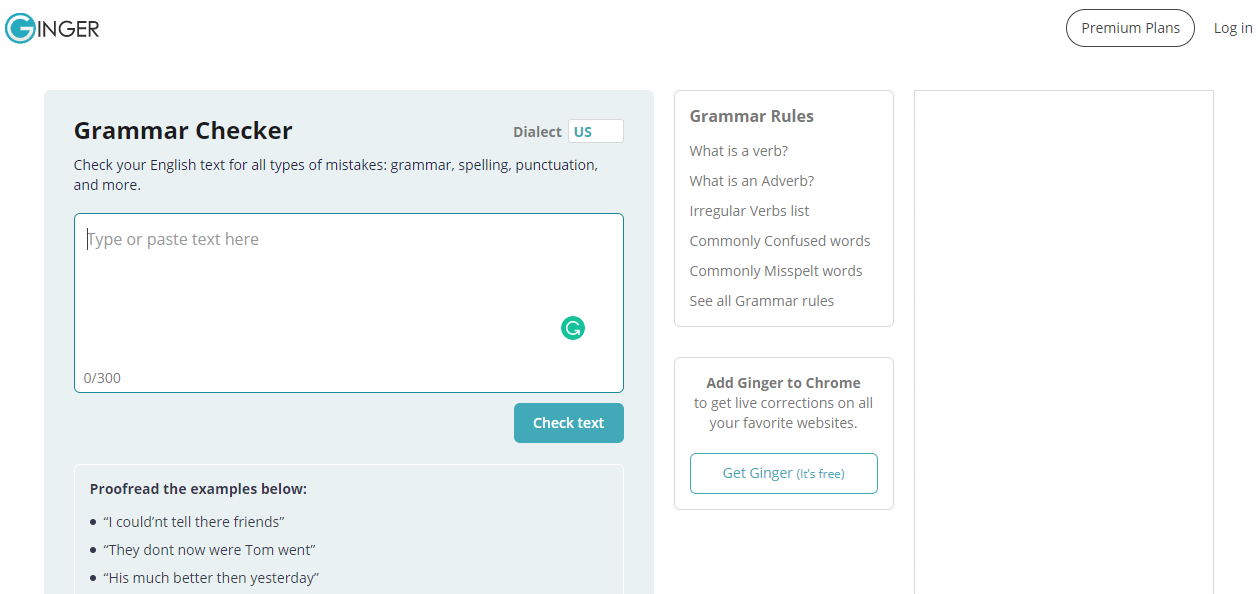 A "Change All" feature also enables its users to correct all the suggested errors in one go. But make sure that you approve them all, else a few lines can seem to be twisted ones. You can even deselect any incorrect suggestion and proceed. However, this feature is quite impressive as it brings swiftness to your tasks.
(Note: If you are a free user, you may not be able to get full access to the "All changes" feature. Yet, you can see all the grammatical-error suggestion by Ginger)
2. Sentence Rephrasing
Sentence Rephrasing is also a notable feature of the Ginger grammar checker tool. However, this feature is also an excellent way that helps you improve your writing style.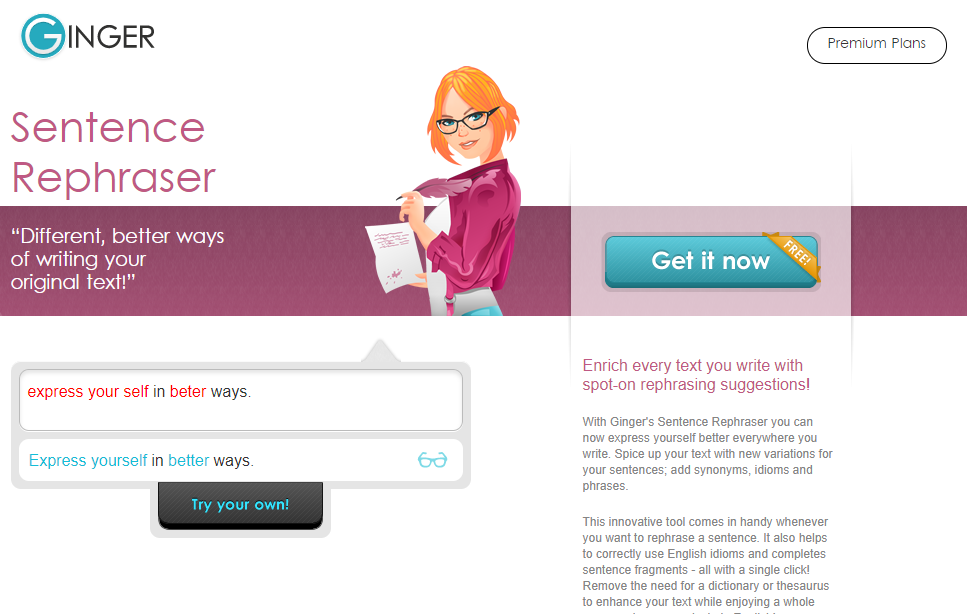 Don't compare it with a 'paraphrasing tool' because this feature enables users how to make hard-to-read sentences simple but more impactful.
(Note: Sentence Rephrasing feature is limited in the free version of the Ginger whereas Premium version provides unlimited access to the users).
3. Personal Trainer
Since Ginger offers you the option to correct all the errors in one go, it may make you a bit lazy-guy. This feature sometimes adversely impacts writers' skills as they start assuming that the tool will correct the mistakes by itself, and they have no need to stress about their grammatical errors.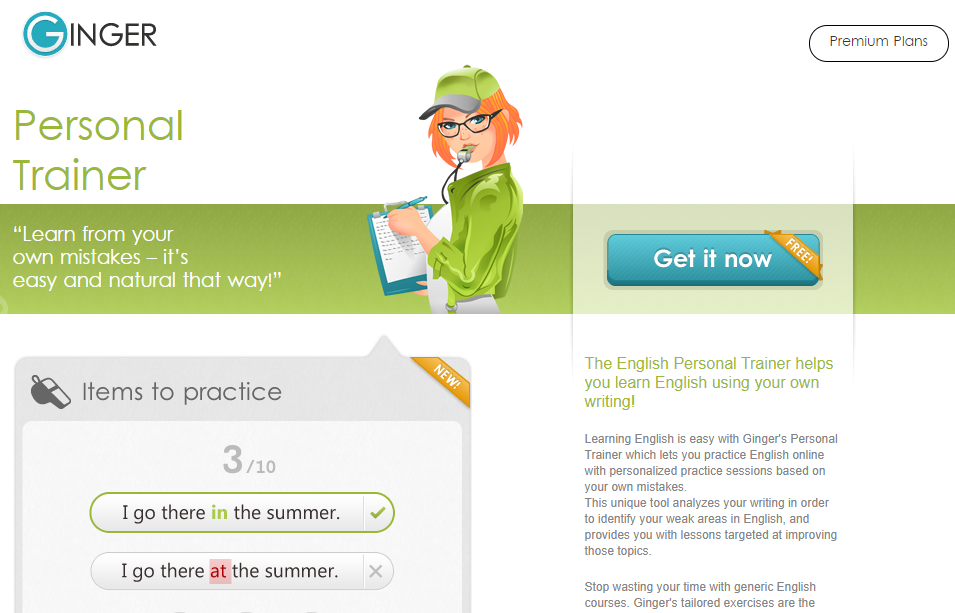 But Ginger knows your mistake and tracks where you are going wrong, and reports you about your entire grammatical errors. Ginger does care for its users, and it aims that you improve your grammar. For this, Ginger does encourage you to join training sessions and overcome your weak points. In this way, you don't make a habit of using that auto-correct feature in Ginger.
(Note: Ginger Personal Trainer feature isn't available in Free Plans)
4. Ginger Translation
Ginger translation is another wonderful gift for non-native speaking. Though, the translation feature is way more effective and reliable than Google Translate. Through the tool, users can translate 40+ languages. Non-native speakers who often Google about complex words to understand their real meaning can feel grateful about this feature.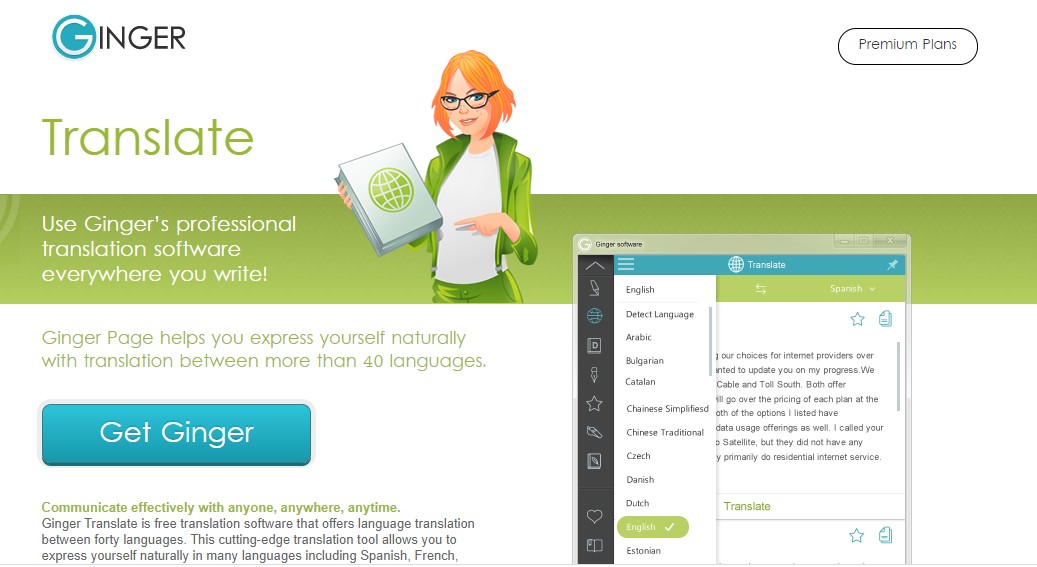 (Note: Ginger translation feature isn't available in Free Plans, but you can purchase a free plan to get unlimited access to 40+ translatable languages)
5. Text Reader
The text reader feature of Ginger also brings easiness for the writers. If you are also used to self-editing those stiff writing and clunky sentence construction, this feature can help you.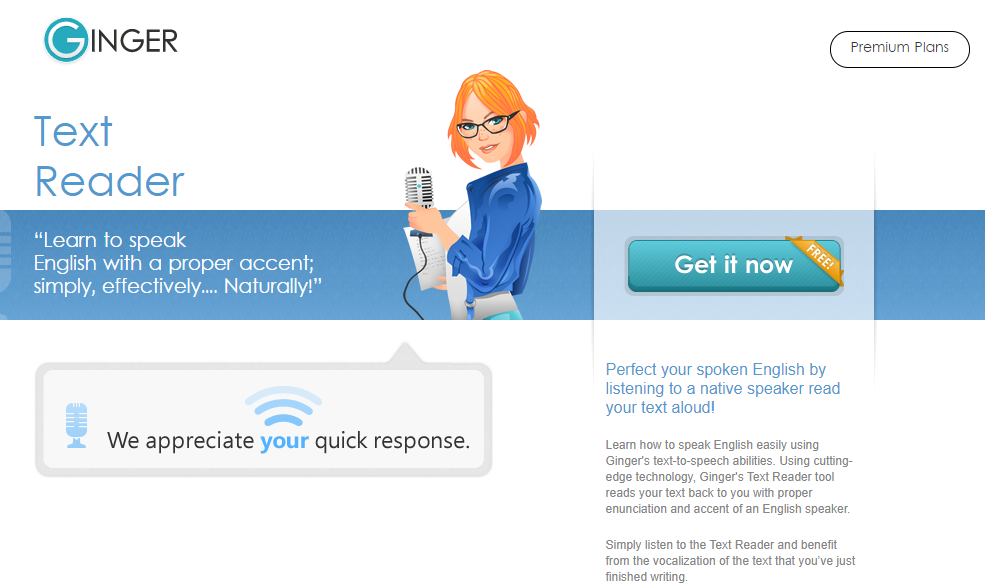 Ginger is an AI-powered tool that means it smartly reads your text and reviews it properly. Even though it detects any repetitive phrases in writing, the advanced algorithm will instantly pinpoint them.
(Note: This feature is limited in Free version)
6. Customer Support Services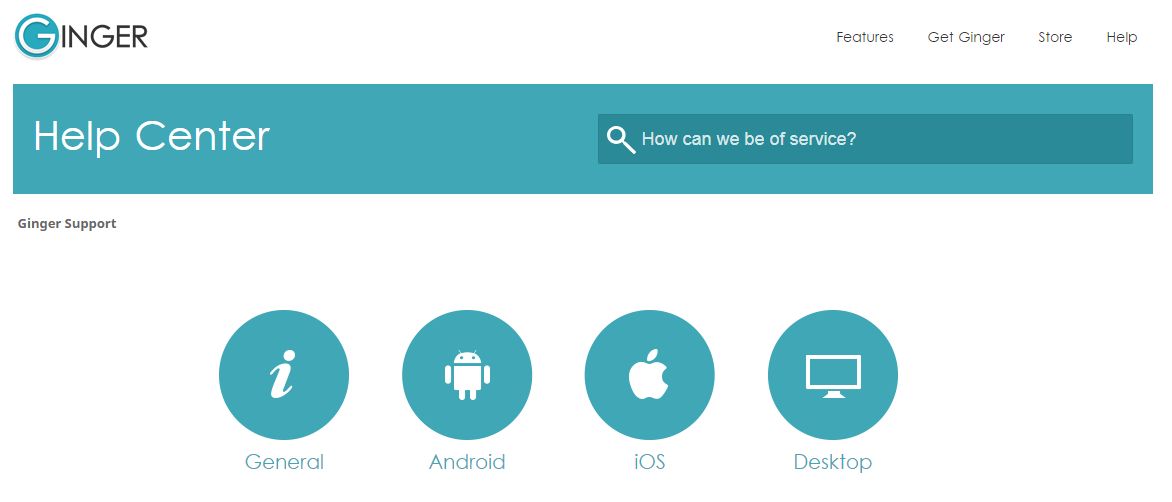 Ginger Customer Support Services are also very responsible and friendly and provide. Just tap on the G Button, and in the settings, you will find the "Contact us" option.
Ginger is Compatible with the following devices:
Ginger is compatible with multiple devices. You can install Ginger even in Microsoft Office, and it will keep suggesting to you all the errors you are making while writing, whether you are using MS Word, Outlook, PowerPoint, and so on. You can even use Ginger on your mobile.
Ginger Price & Plans:
Currently, Ginger has divided its premium plan into three separate categories. Users can choose between Monthly, Yearly, and Two Years plans. Due to any reason, if you feel dissatisfied with the Ginger services, feel free to ask for a return within 7. The plans are as follows-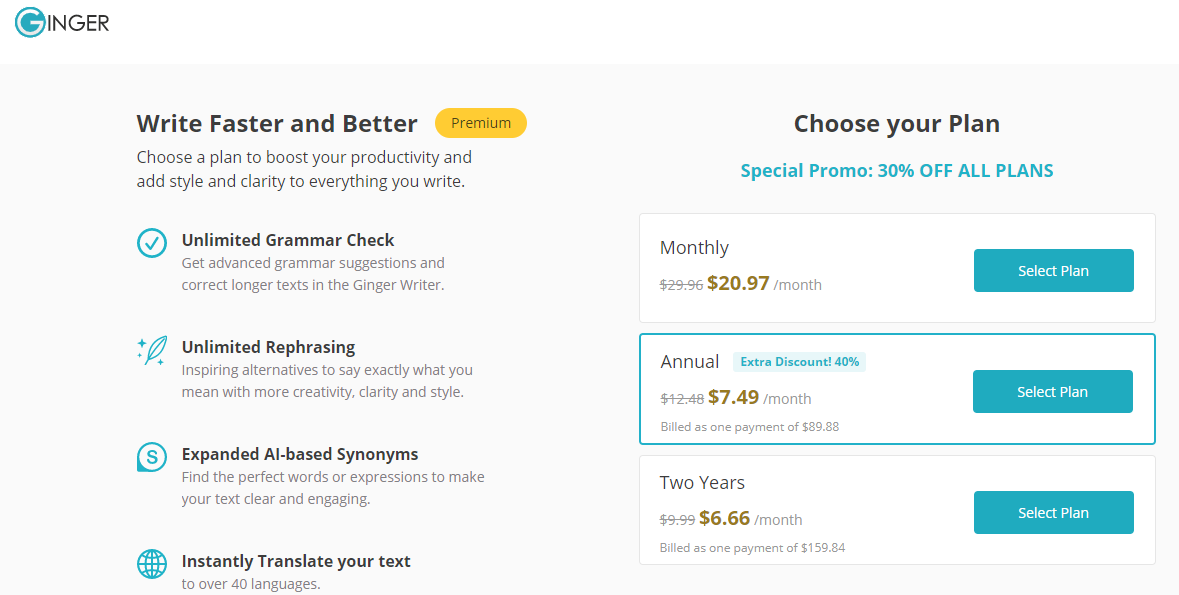 One Month Plan will Cost you around $20.97/month.
The annual Plan will Cost you around $7.49/month.
Two Years Plan will Cost you around $6.66/month.
(Note: as of February 2021, you can find these same prices, but they may vary from time to time due to changing policies and events).
However, you do not need to purchase the Ginger Premium Plan right from the beginning if you are just a beginner. Ginger itself encourages its users to use its FREE Plan first and proceed with further premium offerings if they genuinely like the tool.
Ginger Free Plans:
Fortunately, now everyone can use Ginger for free. After Ginger's Official announcement, now users can use almost all ginger features in a limited amount. Earlier, Ginger was used to providing a 7-day free trial to its users, and the user was able to get full access to all of its premium features free for a full seven days. But that policy has changed. Now Ginger is free for all users. Even if you have yet used the Ginger trial version, you can update or re-install the extension because Now Ginger is free for everyone but under some conditions.
The free Plan are as follows-
Grammar Checker – Available with only Limited Corrections
Definition – Available
Synonyms – Available but Limited
Sentence Rephrasing – Available but Limited
Translation – Not available
Final Words:
In this review, we've found Ginger a great alternative to check and correct grammar. However, the Auto-correction is a unique feature in the Plan. If you are a busy writer, just review the suggestions; if they sound not good, deselect them and click on the proceed button. Within one shot, your entire text will become professionally written.
Though rephrasing and translation feature some additional helpful tools, we found in Ginger. However, we haven't found a big difference between other grammar tools and Ginger grammar checker. Users who prefer to manually correct a few things in their writing can find Ginger not so good an option as the clunky sentences and close paragraphs force you to keep your eyes on the writing; else you may start from the beginning.