As a writer, your objective is to always produce accurate and eye-catching content for your audience. The process of editing and eliminating errors is quite challenging and time-consuming, but with the support of a good AI writing assistant, you won't have to scratch your head for hours to fine-tune your stuff. Even top-tier professional writers rely on editing tools to improve the quality of their writing.
Grammarly and Ginger, both are leading AI tools to rectify grammar and spelling errors in your content. Both tools share the same principle of generating high-quality and error-free content. However, there is a difference in their approach. If you are thinking about choosing any of these AI tools as your grammar checker, this article will help you figure out the similarities, as well as the key differences between the two.
This article is about key features that both tools have to offer, along with their pricing details. The review is based on experts' opinions as well as my personal experience of using both tools. Let's begin.
Grammarly Vs Ginger – The Overview
First, Let's study each tool and its basic functionality.
Grammarly
To get detailed insights into Grammarly make sure to check my detailed Grammarly review here.
Grammarly was created back in 2009 and since then it has been one of the most rapidly growing writing assistants on the market. The platform features comprehensive AI tools and statistical algorithms that will help you elevate the quality of your material. Simply copy and paste your entire article on the Grammarly website and it instantly notifies you about grammatical and spelling mistakes that you can correct within a few seconds.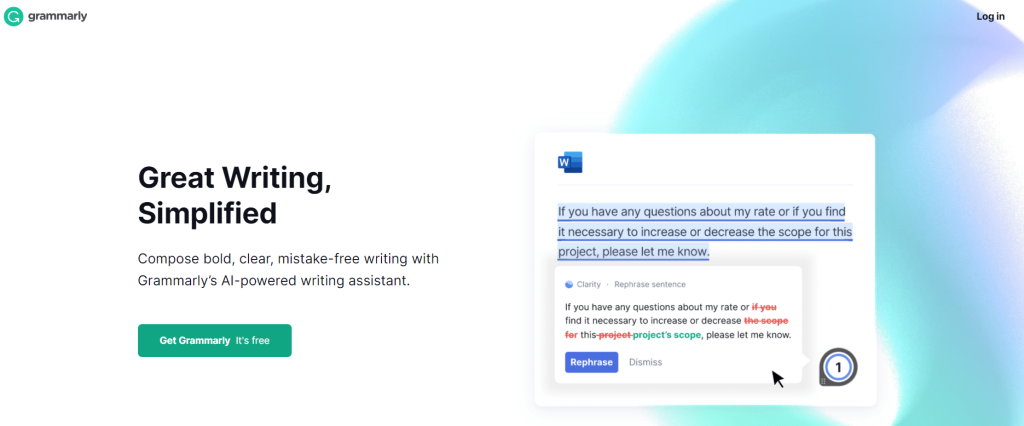 Grammarly also highlights some key information related to your content such as vocabulary, word count, and readability. You can choose the intent of your writing along with the type of audience and level of formality. Based on your preferences, the AI suggests some modifications in order to generate an efficient and error-free article that will keep the readers engaged.
Here Are Some of the main features of Grammarly

Mobile application support for Android and iOS

Supports a number of English language variants such as US, UK, Canadian, and Australian.

Works smoothly with several websites through browser extension and provides you with synonyms with any words just by clicking on it.

The free version provides enough functionality to rectify errors in long articles

Provides you with suggestions such as synonyms, words to omit, redundancy, phrases, and so on

Extension support on popular web browsers such as Google Chrome, Firefox, Microsoft Edge, and Safari
Ginger
Do you want to know more about Ginger? Rollover to check our detailed Ginger Grammar Checker Review here.
Ginger is an Israeli company that was started in 2007. Since the platform is basically a grammar checker, often it's compared with Grammarly. It uses natural language processing and complex algorithms to point out the grammatical errors in your writings. You also get a Style checker along with the suggestion to choose different synonyms in order to enhance your material.

Often labeled as the best grammar checker online, Ginger provides you with quick, accurate, and highly efficient content for your personal blogs, thesis, or even SEO-related content. The grammar checker works brilliantly to find out punctuation mistakes, misplaced words, syntax errors, or even overused phrases or words. The platform also features an in-built paraphrasing tool that comes in very handy to give some uniqueness to your content.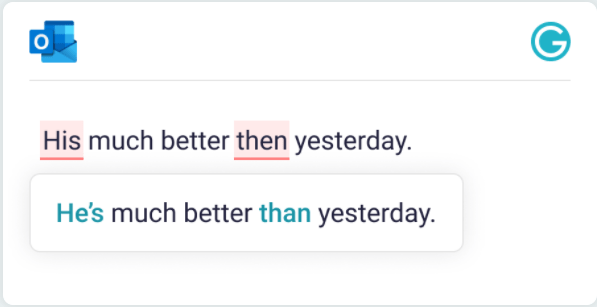 Let's have a look at some of the key features of Ginger:
Provides you with some tailored exercises to practice and enhance your writing skills.

Supports browser extensions on Google Chrome, Safari, and Microsoft Edge for quick correction and paraphrasing

Helps you with real-time grammar checking, generating error-free content in a very short amount of time

A very affordable premium plan with a limited period money-back guarantee

Brilliantly highlights all types of errors such as punctuation, pronouns, contextual spelling mistakes, misused words, and much more
Grammarly Vs Ginger – Similarities
Here are some common features offered by both platforms
Grammarly and Ginger both help with checking grammatical errors and spelling mistakes.

Both Platforms supports add-on for Microsoft Office Word

Both tools support only English as their primary language so far.

Grammarly and Ginger both provide apps for your Android and iOS smartphones.

Both softwares work brilliantly with finding grammatical errors along with spelling errors, punctuation errors, and misused words.

The free and premium plans are similar for both tools.

Both tools provide premium manual proofreading services. However, the service is quite expensive.

Browser extensions are available for both writing assistants.
Grammarly Vs Ginger – Differences
Now, let's try to find out some key differences between both writing assistants.
Grammarly allows you to correct each error one after another, while with Ginger; you can rectify all the mistakes with one single click. Sometimes it saves a lot of time but most of the time you will be better off going through each mistake one by one.

When it comes to pricing, Ginger provides a cheaper annual plan compared to ginger. We will discuss the pricing details of both in detail further in the article.

Overall, Grammarly appears to be a more polished and well-designed platform with an easy-to-use interface.

With the premium version of Grammarly, you get a highly efficient plagiarism checker that helps you to generate unique content. Ginger doesn't provide any such facility.

Paraphrasing is an important tool for elevating your writing standards. Ginger comes with an in-built paraphrasing tool with it while Grammarly has no such feature.

Grammarly extension works best with your web browser. You can click on any word on any website and it suggests to you a number of synonyms related to the word along with the definitions. Ginger lacks any advanced features of this nature.

When it comes to dictionary and translation, Ginger offers both – An in-built dictionary and thesaurus along with a translator. Grammarly doesn't provide any of these features.

Grammarly is more flexible with the facility to write your content in the cloud, meaning you can access it from anywhere, on any device with the internet.
The Pricing 
Let's have a look at the plans and tariff charges of both the softwares.
Grammarly
If you are a student then you can save a few bucks with this exclusive Grammarly Student Discount here.
Grammarly offers three plans for its customers. Free, Premium, and Business. The free plan provides you with basic grammar, punctuation, and spell-checker. The Premium plan gives you more flexibility to enhance the overall content. You get various intelligent word suggestions, a plagiarism checker, and the ability to find confusing words in order to upgrade your content quality.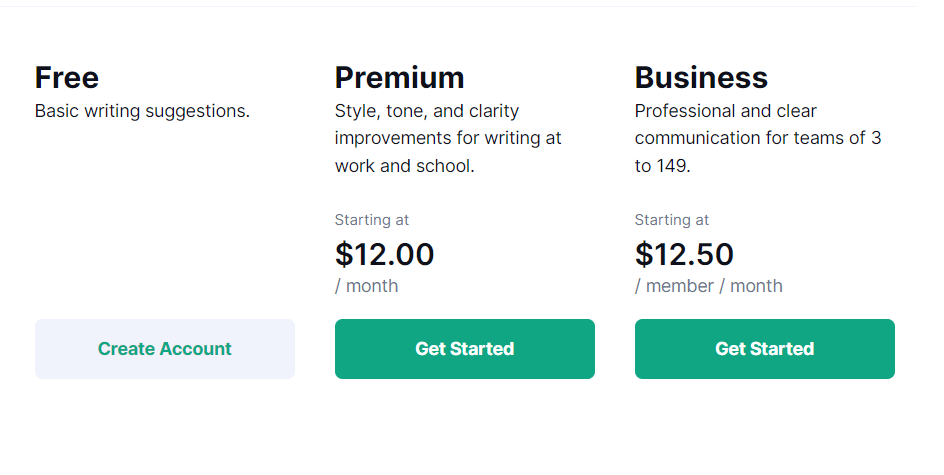 Here is how you can pay for the plans:
The monthly plan costs $30/month with all the premium features.

The quarterly plan costs $20/month with a 33% discount.

The annual plan costs you $144/month with a 60% discount.

Grammarly business plan costs you $12.50/month/user.
Ginger
Ginger provides a limited grammar checking feature along with spellings and punctuations with its free version. You also get the browser extension and access to ginger's dictionary and thesaurus. The premium account gives you access to all the features such as unlimited grammar checking, correcting multiple mistakes with a single click, unlimited paraphrasing, and an add-on for Microsoft office.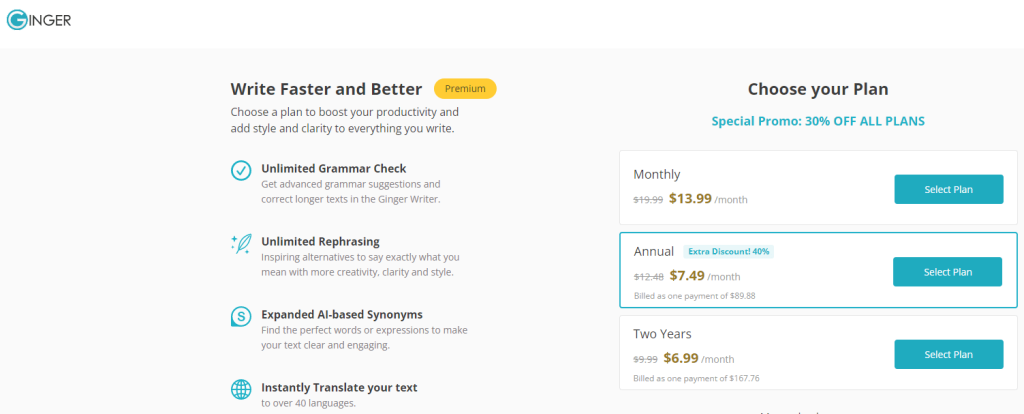 Here is how you can purchase Ginger's premium services:
The monthly plan costs you $13.99/month

The Quarterly plan costs you $33.57 at $11.19/month

The annual plan costs you $89.88 at $7.49/month
Ease of Use – Grammarly Vs Ginger
When it comes to ease of use, Grammarly has an upper hand on Ginger. It has a slightly simpler user interface, designed for all types of writers. You don't need to be a tech-savvy person to operate it. The browser extension also works flawlessly while you are writing and it gives you real-time suggestions, saving you a lot of time. The interface is clean and intuitive and you don't need to jump between multiple tabs to complete your tasks.
Ginger also has a clean interface but honestly, the platform appears to be a bit outdated. Compared to Grammarly, it also lacks some useful features such as a synonym checker, the ability to correct each mistake at once, etc. With ginger, you end up hovering between tabs to find synonyms or relevant words.
Additional Features
Both writing tools come with additional functionality and services. When it comes to mobile applications, Grammarly has an app called Grammarly keyboard for Android and iOS. It's a fantastic app with a real-time grammar and spelling checker. The app comes in very handy if you write business emails or quick sales advertisements or even a quick report on your smartphone.
If you are using a premium version on your computer, simply sync your account and you can access your account and data from your smartphone along with some premium features of the keyboard.
Ginger has a similar keyboard application on Android for quick grammar checking, highlighting spelling, punctuation mistakes, etc. The ginger keyboard comes with some other exciting features such as animations, gifs, themes, and much more. For iOS, Ginger has an application called Page Grammar Spell Checker. The app offers similar functionality along with the premium features you can access with paid plans.
Both platforms provide an add-on for Microsoft Word which is very convenient while you are writing long materials on Word. Furthermore, Grammarly has an add-on for Google Chrome, Firefox, Microsoft Edge, and Safari, while Ginger has only for Chrome, Edge, and Safari.
Related Read:
Summary On Grammarly Vs Ginger
To sum up, I hope this detailed comparison was able to highlight the key differences between the two assistants and will be able to help you choose the right one for you. Both tools have been trusted by thousands of aspirant writers around the world and you can't find a false note in any of those. But after analyzing them closely, it appears that Grammarly is the more advanced of the two. It offers some unique features which, unfortunately, you don't find in Ginger. However, it's entirely up to your personal preference which writing assistant you choose.
If you are looking for an advanced writing tool with a clean interface and quick results, Grammarly is the one for you.

However, if you are not willing to spend much and are looking for a basic yet effective grammar checker, you can buy the premium version of Ginger.
FAQs: Grammarly Vs Ginger
Which tool is better for Grammar checking?
Both tools provide basic grammar checking functionality. With Grammarly, you can rectify each mistake one by one but Ginger allows you to fix all the errors at once with a single click.
Can I download Grammarly and Ginger on my Macbook?
You can download Grammarly software on your Macbook and Windows PC. However, Ginger is not compatible with Macbook yet. So you will need to use the browser extension only.
Which AI writing tool is cheaper – Grammarly or Ginger?
Ginger is almost 50% cheaper than Grammarly with the plan starting at $13.99/month compared to Grammarly's $30/month.
How can I improve the quality of content without hiring a professional editor?
There are a bunch of writing assistants you can download to improve the quality of content. These tools are equipped with a bunch of sub-tools such as grammar checkers and paraphrasing, to help you generate error-free and attractive material.